Fuel
Use of the recommended fuel is an important part of the proper maintenance of this vehicle. To help keep the engine clean and maintain optimum vehicle performance, we recommend the use of gasoline advertised as TOP TIER Detergent Gasoline.
Look for the TOP TIER label on the fuel pump to ensure gasoline meets enhanced detergency standards developed by auto companies. A list of marketers providing TOP TIER Detergent Gasoline can be found at www.toptiergas.com.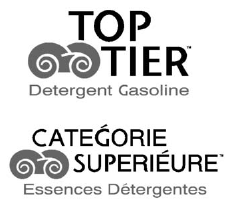 The eighth digit of the Vehicle Identification Number (VIN) shows the code letter or number that identifies the vehicle's engine. The VIN is at the top left of the instrument panel. See Vehicle Identification Number (VIN) .
Vehicles that have a FlexFuel badge and a yellow fuel cap can use either unleaded gasoline or ethanol fuel containing up to 85% ethanol (E85). See Fuel E85 (85% Ethanol) . For all other vehicles, use only the unleaded gasoline described under Recommended Fuel .
See also:
The Comfort Story
The CX is more comfortable than the higher trim levels I've driven, for one reason: the cloth seats. It's not the upholstery itself; it's the seat design. Both I and another editor found the leath ...
Changing a Flat Tire
If a tire goes flat, avoid further tire and wheel damage by driving slowly to a level place. Turn on your vehicle's hazard warning flashers. CAUTION: Changing a tire can be dangerous. The veh ...
Interior like a private jet
Enclave's interior is designed as an extension of the exterior form with complementing curves and warm, inviting colors, as well as premium, soft-touch, low-gloss materials. The instrument panel a ...