Fuel
Use of the recommended fuel is an important part of the proper maintenance of this vehicle. To help keep the engine clean and maintain optimum vehicle performance, we recommend the use of gasoline advertised as TOP TIER Detergent Gasoline.
Look for the TOP TIER label on the fuel pump to ensure gasoline meets enhanced detergency standards developed by auto companies. A list of marketers providing TOP TIER Detergent Gasoline can be found at www.toptiergas.com.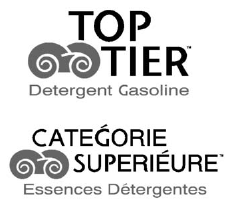 The eighth digit of the Vehicle Identification Number (VIN) shows the code letter or number that identifies the vehicle's engine. The VIN is at the top left of the instrument panel. See Vehicle Identification Number (VIN) .
Vehicles that have a FlexFuel badge and a yellow fuel cap can use either unleaded gasoline or ethanol fuel containing up to 85% ethanol (E85). See Fuel E85 (85% Ethanol) . For all other vehicles, use only the unleaded gasoline described under Recommended Fuel .
See also:
Brakes
This vehicle has disc brakes. Disc brake pads have built-in wear indicators that make a high-pitched warning sound when the brake pads are worn and new pads are needed. The sound can come and go o ...
Safety Belt Reminders
Driver Safety Belt Reminder Light There is a driver safety belt reminder light on the instrument panel cluster. When the engine is started this light begins to flash and a chime comes on for sever ...
Audio System
When using the in-vehicle Bluetooth system, sound comes through the vehicle's front audio system speakers and overrides the audio system. Use the audio system volume knob, during a call, to ch ...