Key Lock Release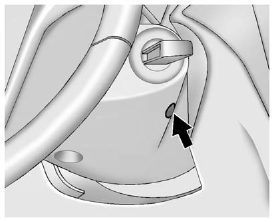 Vehicles with an automatic transmission are equipped with an electronic key lock release system. The key lock release is designed to prevent ignition key removal unless the shift lever is in P (Park).
The key lock release is always functional except in the case of an uncharged or low voltage (less than 9-volt) battery. If the vehicle has an uncharged battery or a battery with low voltage, try charging or jump starting the battery. See Jump Starting .
If charging or jump starting the battery does not work, locate the hole below the ignition lock. Insert a flat bladed tool or another key from the key chain into the opening. When the lever can be felt, actuate the lever toward the driver, and remove the key from the ignition.
See also:
Automatic Dimming Rearview Mirror
To adjust the inside rearview mirror, hold the rearview mirror in the center and move it to view the area behind the vehicle. For vehicles with an automatic dimming rearview mirror, the mirror will ...
Windows
WARNING Leaving children, helpless adults, or pets in a vehicle with the windows closed is dangerous. They can be overcome by the extreme heat and suffer permanent injuries or even death from h ...
Roadside Assistance Program
U.S.: 1-800-252-1112 TTY Users: 1-888-889-2438 Canada: 1-800-268-6800 As the owner of a new Buick, you are automatically enrolled in the Roadside Assistance program. See Roadside Assistance Pr ...