Key Lock Release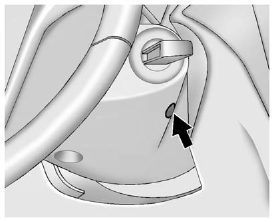 Vehicles with an automatic transmission are equipped with an electronic key lock release system. The key lock release is designed to prevent ignition key removal unless the shift lever is in P (Park).
The key lock release is always functional except in the case of an uncharged or low voltage (less than 9-volt) battery. If the vehicle has an uncharged battery or a battery with low voltage, try charging or jump starting the battery. See Jump Starting .
If charging or jump starting the battery does not work, locate the hole below the ignition lock. Insert a flat bladed tool or another key from the key chain into the opening. When the lever can be felt, actuate the lever toward the driver, and remove the key from the ignition.
See also:
Connections
OnStar Hands-Free Calling allows calls to be made and received from the vehicle. The vehicle can also be controlled from a cell phone through the OnStar mobile app. See www.onstar.com for coverage ...
Trailer Brakes
Because the vehicle has antilock brakes, do not try to tap into the vehicle's hydraulic brake system. If you do, both brake systems will not work well, or at all. Does your trailer have its own ...
Radio Reception
Frequency interference and static can occur during normal radio reception if items such as cell phone chargers, vehicle convenience accessories, and external electronic devices are plugged into th ...