Off-Road Recovery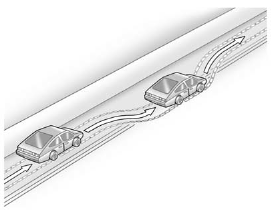 The vehicle's right wheels can drop off the edge of a road onto the shoulder while driving. Follow these tips:
1. Ease off the accelerator and then, if there is nothing in the way, steer the vehicle so that it straddles the edge of the pavement.
2. Turn the steering wheel about one-eighth of a turn, until the right front tire contacts the pavement edge.
3. Then turn the steering wheel to go straight down the roadway.
See also:
Control of a Vehicle
Braking, steering, and accelerating are important factors in helping to control a vehicle while driving. ...
Hazard Warning Flashers
Hazard Warning Flashers Hazard Warning Flasher: Press this button to make the front and rear turn signal lamps flash on and off. Press again to turn the flashers off. The hazard warning fl ...
Manual Reclining Seatbacks
WARNING! You can lose control of the vehicle if you try to adjust a manual driver seat while the vehicle is moving. The sudden movement could startle and confuse you, or make you push a p ...