Off-Road Recovery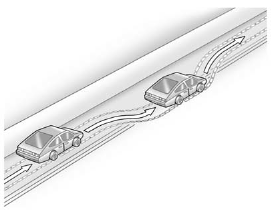 The vehicle's right wheels can drop off the edge of a road onto the shoulder while driving. Follow these tips:
1. Ease off the accelerator and then, if there is nothing in the way, steer the vehicle so that it straddles the edge of the pavement.
2. Turn the steering wheel about one-eighth of a turn, until the right front tire contacts the pavement edge.
3. Then turn the steering wheel to go straight down the roadway.
See also:
Sheet Metal Damage
If the vehicle is damaged and requires sheet metal repair or replacement, make sure the body repair shop applies anti-corrosion material to parts repaired or replaced to restore corrosion protecti ...
Satellite Radio
XM is a satellite radio service that is based in the 48 contiguous United States and 10 Canadian provinces. XM satellite radio has a wide variety of programming and commercial-free music, coas ...
Ultrasonic Rear Parking Assist (URPA)
For vehicles with the URPA system, it operates at speeds less than 8 km/h (5 mph), and assists the driver with parking and avoiding objects while in R (Reverse). The sensors on the rear bumper ar ...