Head Restraint Removal and Reinstallation
The rear outboard head restraints can be removed if they interfere with the proper installation of the child restraint.
To remove the head restraint:
1. Partially fold the seatback forward. See Rear Seats for additional information.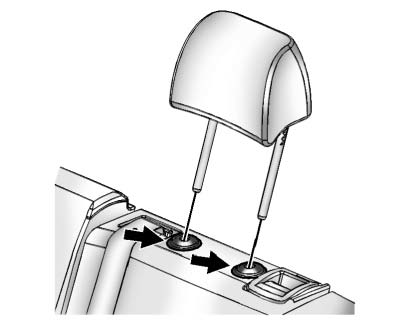 2. Press both buttons on the head restraint posts at the same time, and pull up on the head restraint.
3. Store the head restraint in the trunk of the vehicle.
4. When the child restraint is removed, reinstall the head restraint before the seating position is used.

WARNING
With head restraints that are not installed and adjusted properly, there is a greater chance that occupants will suffer a neck/ spinal injury in a crash. Do not drive until the head restraints for all occupants are installed and adjusted properly.
To reinstall the head restraint: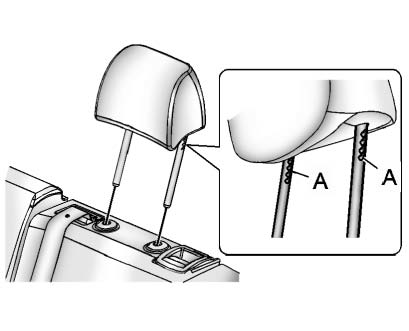 1. Insert the head restraint posts into the holes in the top of the seatback. The notches (A) on the posts must face the driver side of the vehicle.
2. Push the head restraint down.
If necessary, press the height adjustment release button to further lower the head restraint.
See Head Restraints .
3. Try to move the head restraint to make sure that it is locked in place.
See also:
Care of the HUD
Clean the inside of the windshield as needed to remove any dirt or film that could reduce the sharpness or clarity of the HUD image. To clean the HUD lens, use a soft, clean cloth that has ho ...
Reading Lamps
There are front and rear reading lamps. The front reading lamps are located in the overhead console. The rear reading lamps are located in the headliner. or : Press to turn each lamp ...
Vehicle Symbols
The vehicle has components and labels that use symbols instead of text. Symbols are shown along with the text describing the operation or information relating to a specific component, control, m ...