Heated Steering Wheel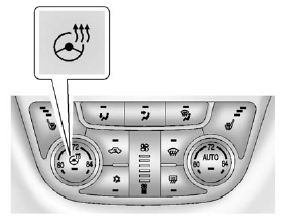 (Heated Steering Wheel): For vehicles with a heated steering wheel, press to turn it on or off. A light on the button displays when the feature is turned on. The steering wheel takes about three minutes to start heating.
See also:
Initial Drive Information
This section provides a brief overview about some of the important features that may or may not be on your specific vehicle. For more detailed information, refer to each of the features which c ...
What to Use
WARNING Adding only plain water or some other liquid to the cooling system can be dangerous. Plain water and other liquids, can boil before the proper coolant mixture will. The coolant warning ...
Convenience Net
Your vehicle may have this feature. A convenience net in the rear of your vehicle helps keep small items in place during sharp turns or quick stops and starts. The net is not designed to retain th ...