Cupholders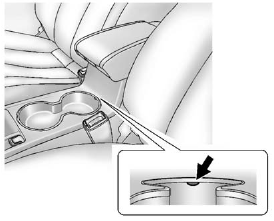 There are two cupholders in the center console with a removable liner. To remove the liner, lift up on the notch on the underside of the rear of the cupholder.
Rear Seat
There are two cupholders in the rear seat armrest. Lower the rear seat armrest to access the cupholders.
See also:
Tire Rotation
Tires should be rotated every 12 000 km (7,500 mi). See Maintenance Schedule . Tires are rotated to achieve a uniform wear for all tires. The first rotation is the most important. Any time unusual ...
No Folder
When the disc contains only compressed files, the files are located under the root folder. The next and previous folder function does not function on a disc that was recorded without folders or p ...
How to Add Coolant to the Radiator
1. You can remove the radiator pressure cap when the cooling system, including the radiator pressure cap and upper radiator hose, is no longer hot. Turn the pressure cap slowly counterclockwis ...