Seat Adjustment

WARNING
You can lose control of the vehicle if you try to adjust a manual driver seat while the vehicle is moving. The sudden movement could startle and confuse you, or make you push a pedal when you do not want to. Adjust the driver seat only when the vehicle is not moving.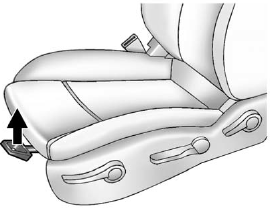 To adjust a manual seat:
1. Pull the handle at the front of the seat.
2. Slide the seat to the desired position and release the handle.
3. Try to move the seat back and forth to be sure it is locked in place.
See also:
Shocks and Struts
Shocks and struts help aid in control for a smoother ride. • Signs of wear may include steering wheel vibration, bounce/sway while braking, longer stopping distance, or uneven tire wear. в ...
Configuring MEM Favorites
During MEM playback, press the FAV button to change between favorite categories. The favorite categories are: • Playlists • Artists • Albums • Genres To remove MEM favorites categ ...
What to Add
If the vehicle has DOT 3 brake fluid, as indicated on the reservoir cap, use only new DOT 3 brake fluid from a sealed container. See Recommended Fluids and Lubricants . If the vehicle has DOT 4 b ...