Cruise Control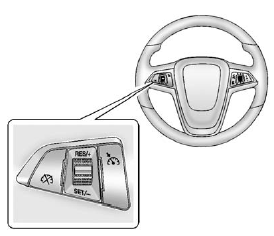 : Press to turn the cruise control system on and off. An indicator light will turn on or off in the instrument cluster.

: Press to disengage cruise control without erasing the set speed from memory.
: Move the thumbwheel up to resume to a previously set speed or to accelerate.
SET/−: Move the thumbwheel down to set a speed and activate cruise control or to make the vehicle decelerate.
See Cruise Control .
See also:
Weight of the Trailer Tongue
The tongue load (A) of any trailer is an important weight to measure because it affects the total gross weight of the vehicle. The Gross Vehicle Weight (GVW) includes the curb weight of the vehi ...
Recommended Fluids andLubricants
Fluids and lubricants identified below by name, part number, or specification may be obtained from your dealer. ...
Tire Terminology and Definitions
Air Pressure: The amount of air inside the tire pressing outward on each square inch of the tire. Air pressure is expressed in pounds per square inch (psi) or kilopascal (kPa). Accessory Weight: ...