Turn and Lane-Change Signals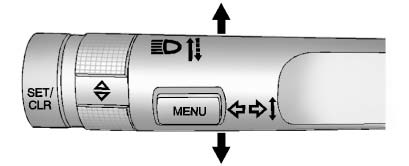 Move the lever all the way up or down to signal a turn.
An arrow on the instrument panel cluster flashes in the direction of the turn or lane change.
Raise or lower the lever until the arrow starts to flash to signal a lane change. Hold it there until the lane change is completed. If the lever is briefly pressed and released, the turn signal flashes three times.
The turn and lane-change signal can be turned off manually by moving the lever back to its original position.
If after signaling a turn or lane change, the arrow flashes rapidly or does not come on, a signal bulb might be burned out.
Have the bulbs replaced. If the bulb is not burned out, check the fuse.
See Fuses and Circuit Breakers .
See also:
Turn Signals When Towing a Trailer
The arrows on the instrument panel flash whenever signaling a turn or lane change. Properly hooked up, the trailer lamps also flash, telling other drivers the vehicle is turning, changing lanes, o ...
Additional Maintenance and Care
Your vehicle is an important investment and caring for it properly may help to avoid future costly repairs. To maintain vehicle performance, additional maintenance services may be required ...
Headphones
The RSE system includes two sets of wireless headphones. Each set of headphones has an ON/OFF control. An indicator light will illuminate on the headphones when they are on. If the light does ...