Reading Lamps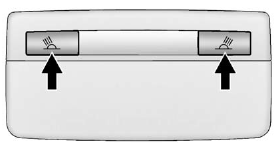 The reading lamps are located in the headliner.

or

: Press the button near each lamp to turn it on or off.
See also:
If a Tire Goes Flat
It is unusual for a tire to blowout while you are driving, especially if you maintain your vehicle's tires properly. If air goes out of a tire, it is much more likely to leak out slowly. But if ...
Engine Overheating
The vehicle has several indicators to warn of engine overheating. You will find a warning light about a hot engine as well as an engine coolant temperature gage on the instrument panel cluster. ...
File System and Naming
The song name that displays is the song name that is contained in the ID3 tag. If the song name is not present in the ID3 tag, then the radio displays the file name without the extension (such as . ...