Remote Keyless Entry (RKE) System
The Remote Keyless Entry (RKE) transmitter will work up to 20 m (65 ft) away from the vehicle.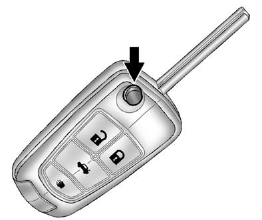 RKE without Remote Start Shown
Press the button to extend the key. The key can be used for all locks. This key is also used for the ignition, if the vehicle does not have pushbutton start.
: Press to unlock the driver door or all doors.

: Press to lock all doors. Lock and unlock feedback can be personalized.

: Press and hold to open the trunk.

: Press and release one time to locate the vehicle. Press and hold for at least two seconds to sound the panic alarm. Press again to cancel the panic alarm.
See also:
Average Vehicle Speed
This display shows the average speed of the vehicle in miles per hour (mph) or kilometers per hour (km/h). This average is calculated based on the various vehicle speeds recorded since the ...
High Voltage Devices and Wiring
WARNING! Exposure to high voltage can cause shock, burns, and even death. The high voltage components in the vehicle can only be serviced by technicians with special training. High voltage ...
Low-Profile Tires
If the vehicle has P235/45R18 size tires, they are classified as low-profile tires. Notice: Low-profile tires are more susceptible to damage from road hazards or curb impact than standard profile ...