Power Mirrors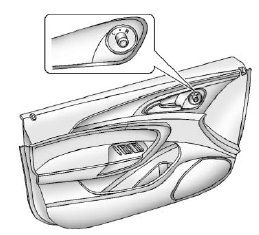 Controls for the outside power mirrors are located on the driver door.
1. Turn the control knob to the L (left) or R (right) selecting the driver or passenger mirror.
2. Push the control knob to the left, right, up, or down to adjust the mirror.
See also:
Collision Parts
Genuine GM Collision parts are new parts made with the same materials and construction methods as the parts with which the vehicle was originally built. Genuine GM Collision parts are the be ...
Tire Terminology and Definitions
Air Pressure: The amount of air inside the tire pressing outward on each square inch of the tire. Air pressure is expressed in kPa (kilopascal) or psi (pounds per square inch). Accessory Weight: ...
Adjusting the Fader and Balance
1. Press the TONE button. 2. Select Fader or Balance. 3. Select the value. Press the BACK button to go back to the Tone Settings menu. ...