Mirror Adjustment
Exterior Mirrors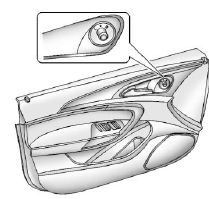 Controls for the outside power mirrors are located on the driver door.
1. Turn the control knob to the L (left) or R (right) selecting the driver or passenger mirror.
2. Push the control knob to the left, right, up, or down to adjust the mirror.
See Power Mirrors .
Interior Mirror
The vehicle has an automatic dimming inside rearview mirror.
Automatic dimming reduces the glare from the headlamps of the vehicle behind you. The dimming feature and the indicator light come on each time the ignition is turned to start.
See Automatic Dimming Rearview Mirror .
See also:
Vehicle Identification Number (VIN)
This is the legal identifier for your vehicle. It appears on a plate in the front corner of the instrument panel, on the driver's side. You can see it if you look through the windshield from ou ...
When the Light Is On Steady
This indicates that one or more of the tires are significantly underinflated. A Driver Information Center (DIC) tire pressure message may also display. See Vehicle Messages for more informati ...
Battery
This vehicle has a standard 12-volt battery. Refer to the replacement number on the original battery label when a new standard 12-volt battery is needed. eAssist vehicles also have a high v ...