Fuel
Use of the recommended fuel is an important part of the proper maintenance of this vehicle. To help keep the engine clean and maintain optimum vehicle performance, we recommend the use of gasoline advertised as TOP TIER Detergent Gasoline.
Look for the TOP TIER label on the fuel pump to ensure gasoline meets enhanced detergency standards developed by auto companies. A list of marketers providing TOP TIER Detergent Gasoline can be found at www.toptiergas.com.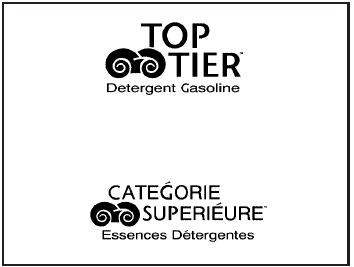 The 8th digit of the Vehicle Identification Number (VIN) shows the code letter or number that identifies the vehicle's engine. The VIN is at the top left of the instrument panel. See Vehicle Identification Number (VIN).
If the vehicle has the 3.9L V6 engine (VIN Code M), you can use either unleaded gasoline or ethanol fuel containing up to 85% ethanol (E85). See Fuel E85 (85% Ethanol). In all other engines, use only the unleaded gasoline described under Gasoline Octane .
See also:
Buick Regal in the Market
The base Regal will do a lot to bring new people into Buick showrooms, and it could even steal from Acura and Lexus folks who are turned off by those brands' styling (Acura) or aging models (Lexus ...
Cupholders
There are cupholders located in the full floor console, or in the front of the center seat console. Cupholders are also located in the rear armrest. Slide the cover back to access the full floor ...
Cleaning the RSE Seatback Console
Use only a clean cloth dampened with clean water to clean the RSE seatback console surface. ...