Fuel
Use of the recommended fuel is an important part of the proper maintenance of this vehicle. To help keep the engine clean and maintain optimum vehicle performance, we recommend the use of gasoline advertised as TOP TIER Detergent Gasoline.
Look for the TOP TIER label on the fuel pump to ensure gasoline meets enhanced detergency standards developed by auto companies. A list of marketers providing TOP TIER Detergent Gasoline can be found at www.toptiergas.com.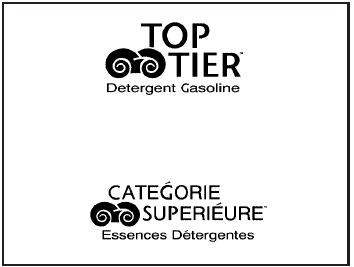 The 8th digit of the Vehicle Identification Number (VIN) shows the code letter or number that identifies the vehicle's engine. The VIN is at the top left of the instrument panel. See Vehicle Identification Number (VIN).
If the vehicle has the 3.9L V6 engine (VIN Code M), you can use either unleaded gasoline or ethanol fuel containing up to 85% ethanol (E85). See Fuel E85 (85% Ethanol). In all other engines, use only the unleaded gasoline described under Gasoline Octane .
See also:
Following Distance
Stay at least twice as far behind the vehicle ahead as you would when driving the vehicle without a trailer. This can help to avoid situations that require heavy braking and sudden turns. ...
Air Vents
Use the louvers located on the air vents to change the direction of the airflow. To open a vent, move the thumbwheel to | . To close the vent, move the thumbwheel to . Operation Tips ► Keep a ...
Roadside Assistance Program (Mexico)
As a new owner, your vehicle is automatically enrolled in the Roadside Assistance program. The services are available at no cost under the terms and conditions of the program. The Roadside ...