Fuel
Use of the recommended fuel is an important part of the proper maintenance of this vehicle. To help keep the engine clean and maintain optimum vehicle performance, we recommend the use of gasoline advertised as TOP TIER Detergent Gasoline.
Look for the TOP TIER label on the fuel pump to ensure gasoline meets enhanced detergency standards developed by auto companies. A list of marketers providing TOP TIER Detergent Gasoline can be found at www.toptiergas.com.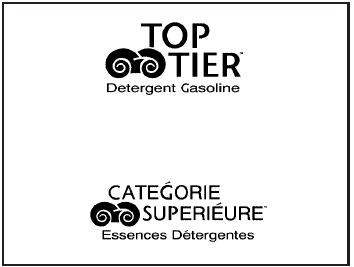 The 8th digit of the Vehicle Identification Number (VIN) shows the code letter or number that identifies the vehicle's engine. The VIN is at the top left of the instrument panel. See Vehicle Identification Number (VIN).
If the vehicle has the 3.9L V6 engine (VIN Code M), you can use either unleaded gasoline or ethanol fuel containing up to 85% ethanol (E85). See Fuel E85 (85% Ethanol). In all other engines, use only the unleaded gasoline described under Gasoline Octane .
See also:
Additional Program Information
All program options, such as shuttle service, may not be available at every dealer. Please contact your dealer for specific information about availability. All Courtesy Transportation arrangements ...
Driver Safety Belt Reminder Light
There is a driver safety belt reminder light on the instrument panel cluster. When the vehicle is started, this light flashes and a chime may come on to remind the driver to fasten their safety b ...
Instrument Panel
Instrument Panel A. Exterior Lamp Controls. Fog Lamps. Instrument Panel Illumination Control. B. Air Vents. C. Turn and Lane Change Lever. See Turn and Lane-Change Signals. Driver Information ...