Fuel
Use of the recommended fuel is an important part of the proper maintenance of this vehicle. To help keep the engine clean and maintain optimum vehicle performance, we recommend the use of gasoline advertised as TOP TIER Detergent Gasoline.
Look for the TOP TIER label on the fuel pump to ensure gasoline meets enhanced detergency standards developed by auto companies. A list of marketers providing TOP TIER Detergent Gasoline can be found at www.toptiergas.com.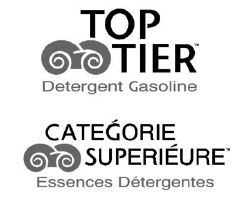 The eighth digit of the Vehicle Identification Number (VIN) shows the code letter or number that identifies the vehicle's engine. The VIN is at the top left of the instrument panel. See Vehicle Identification Number (VIN).
See also:
Order of Play
Tracks recorded to the CD-R or CD-RW are played in the following order: • Play begins from the first track in the first playlist and continues sequentially through all tracks in each playlist ...
Passing
The driver of a vehicle about to pass another on a two-lane highway waits for just the right moment, accelerates, moves around the vehicle ahead, then goes back into the right lane again. A simple ...
GM Mobility Reimbursement Program
This program is available to qualified applicants for cost reimbursement of eligible aftermarket adaptive equipment required for the vehicle, such as hand controls or a wheelchair/ scooter lift for ...