Fuel
Use of the recommended fuel is an important part of the proper maintenance of this vehicle. To help keep the engine clean and maintain optimum vehicle performance, we recommend the use of gasoline advertised as TOP TIER Detergent Gasoline.
Look for the TOP TIER label on the fuel pump to ensure gasoline meets enhanced detergency standards developed by auto companies. A list of marketers providing TOP TIER Detergent Gasoline can be found at www.toptiergas.com.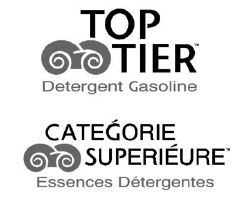 The eighth digit of the Vehicle Identification Number (VIN) shows the code letter or number that identifies the vehicle's engine. The VIN is at the top left of the instrument panel. See Vehicle Identification Number (VIN).
See also:
Maintenance Footnotes
(a) Visually inspect brake lines and hoses for proper hook-up, binding, leaks, cracks, chafing, etc. Inspect disc brake pads for wear and rotors for surface condition. Inspect other brake parts, i ...
Window Messages
OPEN, THEN CLOSE DRIVER WINDOW This message is displayed when the window needs to be reprogrammed. If the vehicle's battery has been recharged or disconnected, you will need to reprogram each front ...
Washing the Vehicle
To preserve the vehicle's finish, wash it often and out of direct sunlight. Notice: Do not use petroleum based, acidic, or abrasive cleaning agents as they can damage the vehicle's paint, ...