Fuel
Use of the recommended fuel is an important part of the proper maintenance of this vehicle. To help keep the engine clean and maintain optimum vehicle performance, we recommend the use of gasoline advertised as TOP TIER Detergent Gasoline.
Look for the TOP TIER label on the fuel pump to ensure gasoline meets enhanced detergency standards developed by auto companies. A list of marketers providing TOP TIER Detergent Gasoline can be found at www.toptiergas.com.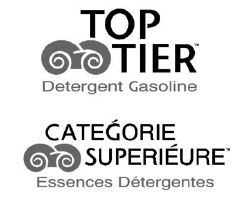 The eighth digit of the Vehicle Identification Number (VIN) shows the code letter or number that identifies the vehicle's engine. The VIN is at the top left of the instrument panel. See Vehicle Identification Number (VIN).
See also:
Windshield Wiper/Washer
The windshield wiper lever is on the side of the steering column. 2: Use for fast wipes. 1: Use for slow wipes. Turn the band up for more frequent wipes or down for less frequent wipes. Us ...
How to Wear Safety Belts Properly
This part is only for people of adult size. Be aware that there are special things to know about safety belts and children. And there are different rules for smaller children and babies. If a ...
Radio Frequency Identification (RFID)
RFID technology is used in some vehicles for functions such as tire pressure monitoring and ignition system security, as well as in connection with conveniences such as key fobs for remote door ...