Passenger Compartment Air Filter
The filter removes dust, pollen, and other airborne irritants from outside air that is pulled into the vehicle.
The filter should be replaced as part of routine scheduled maintenance.
See Scheduled Maintenance for replacement intervals.
To find out what type of filter to use, see Maintenance Replacement Parts .
The passenger compartment air filter can be accessed by removing the entire glove box.
1. Open the passenger side door.
Remove the end cover located on the side of the instrument panel in the top right corner.
Remove the screw affixed to the side of the glove box.
2. Open the glove box door and remove the attached screws from around the glove box.
3. Lower the loosened glove box housing.
4. Unplug both wire cables and remove the glove box.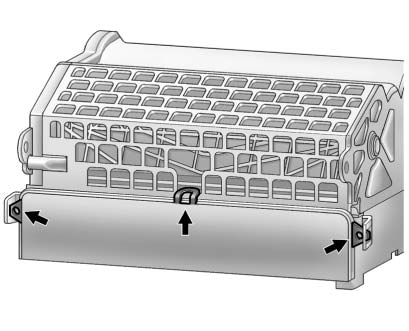 5. Pull the three tabs to release and open the filter door.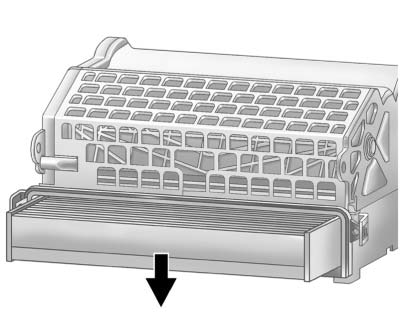 6. Remove the old air filter.
7. Install the new air filter.
8. Reinstall the air filter door.
Re-install the glove box.
See your dealer if additional assistance is needed.
See also:
All-Wheel Drive (AWD) System
Your vehicle may have this feature. There is no lever or switch to engage or disengage the front axle. It is fully automatic and adjusts as needed for road conditions. Your vehicle has an active t ...
How to Inspect the Engine Air Cleaner/Filter
To inspect the air cleaner/filter, remove the filter from the vehicle and lightly shake the filter to release loose dust and dirt. If the filter remains caked with dirt, a new filter is required ...
Interior Mirrors
Automatic Dimming Rearview Mirror The vehicle has an automatic dimming inside rearview mirror. Automatic dimming reduces the glare from the headlamps of the vehicle behind you. Vehicles with OnStar ...