Passenger Compartment Air Filter
The filter removes dust, pollen, and other airborne irritants from outside air that is pulled into the vehicle.
The filter should be replaced as part of routine scheduled maintenance.
See Scheduled Maintenance for replacement intervals.
To find out what type of filter to use, see Maintenance Replacement Parts .
The passenger compartment air filter can be accessed by removing the entire glove box.
1. Open the passenger side door.
Remove the end cover located on the side of the instrument panel in the top right corner.
Remove the screw affixed to the side of the glove box.
2. Open the glove box door and remove the attached screws from around the glove box.
3. Lower the loosened glove box housing.
4. Unplug both wire cables and remove the glove box.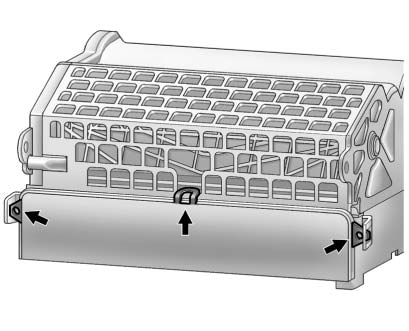 5. Pull the three tabs to release and open the filter door.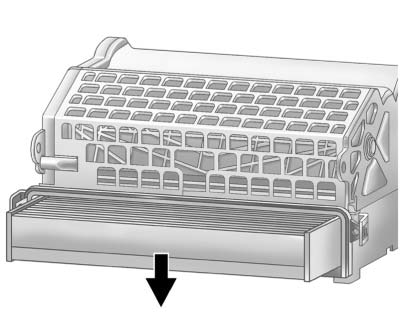 6. Remove the old air filter.
7. Install the new air filter.
8. Reinstall the air filter door.
Re-install the glove box.
See your dealer if additional assistance is needed.
See also:
Additional Factors Affecting System Operation
Safety belts help keep the passenger in position on the seat during vehicle maneuvers and braking, which helps the passenger sensing system maintain the passenger airbag status. See "Safety Belts" ...
How to Add Coolant to the Surge Tank
WARNING: You can be burned if you spill coolant on hot engine parts. Coolant contains ethylene glycol and it will burn if the engine parts are hot enough. Do not spill coolant on a hot engine. ...
Halogen Bulbs
WARNING Halogen bulbs have pressurized gas inside and can burst if you drop or scratch the bulb. You or others could be injured. Be sure to read and follow the instructions on the bulb package. ...