All-Wheel Drive
When to Check Lubricant
It is not necessary to regularly check fluid unless you suspect there is a leak or you hear an unusual noise. A fluid loss could indicate a problem. Have it inspected and repaired.
How to Check Lubricant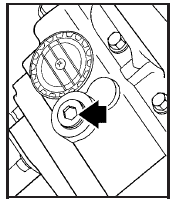 To get an accurate reading, the vehicle should be on a level surface.
If the level is below the bottom of the filler plug hole, located on the transfer case, you'll need to add some lubricant. Add enough lubricant to raise the level to the bottom of the filler plug hole.
Use care not to overtighten the plug.
What to Use
To determine what kind of lubricant to use.
See also:
Defensive Driving
Defensive driving means "always expect the unexpected." The first step in driving defensively is to wear the safety belt. See Safety Belts. • Assume that other road users (pedestrians, ...
Transferring a Call
Audio can be transferred between the Bluetooth system and the cell phone. The cell phone must be paired and connected with the Bluetooth system before a call can be transferred. The connect ...
Fog Lamps
To replace the fog lamp bulb: 1. Locate the bulb assembly under the front fascia. 2. Disconnect the electrical connector from the bulb assembly. 3. Remove the bulb by turning it counterclockwise an ...