Turn and Lane-Change Signals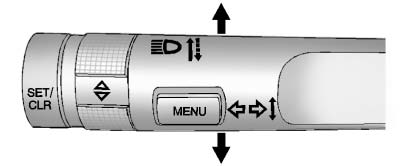 Move the lever all the way up or down to signal a turn.
An arrow on the instrument panel cluster flashes in the direction of the turn or lane change.
Raise or lower the lever until the arrow starts to flash to signal a lane change. Hold it there until the lane change is completed. If the lever is briefly pressed and released, the turn signal flashes three times.
The turn and lane-change signal can be turned off manually by moving the lever back to its original position.
If after signaling a turn or lane change, the arrow flashes rapidly or does not come on, a signal bulb might be burned out.
Have the bulbs replaced. If the bulb is not burned out, check the fuse.
See Fuses and Circuit Breakers .
See also:
Steering Wheel Adjustment
The lever is located on the left side of the steering column. To adjust the lever: 1. Hold the wheel and pull the lever toward you. 2. Move the steering wheel up or down into a comfortable ...
Windshield Wiper/Washer
The windshield wiper lever is located on the left side of the steering column. : Use for a single wiping cycle. : Delays wiping cycle. : Slow wipes. : Fast wipes. : Turns the wiper ...
Headlamp Delay
Press the customization button until HEADLAMP DELAY: 10 SEC appears in the display. To select your preference for how long the headlamps will stay on when you turn off the vehicle, press the selec ...