Checking Coolant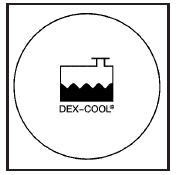 The engine coolant recovery tank is in the engine compartment on the passenger's side of the vehicle. The cap has this symbol on it.
The vehicle must be on a level surface. When your engine is cold, the coolant level should be at FULL COLD, or a little higher.
See also:
Transferring Service
Push to request account transfer eligibility information. The Advisor can assist in canceling or removing account information. If OnStar receives information that vehicle ownership has chan ...
Defensive Driving
Defensive driving means "always expect the unexpected." The first step in driving defensively is to wear the safety belt. See Safety Belts . . Assume that other road users (pedestrians, bicycli ...
Certification/Tire Label
A vehicle specific Certification/Tire label is found on the rear edge of the driver's door. The label shows the size of your vehicle's original tires and the inflation pressures needed to obt ...