Charging System Light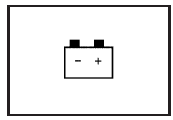 The charging system light will come on briefly when you turn on the ignition, but the engine is not running, as a check to show you it is working.
It should go out once the engine is running. If it stays on, or comes on while you are driving, you may have a problem with the charging system.
It could indicate that you have problems with a generator drive belt, or another electrical problem.
Have it checked right away. Driving while this light is on could drain your battery.
If you must drive a short distance with the light on, be certain to turn off all your accessories, such as the radio and air conditioner.
See also:
Trip 1 and Trip 2
This display shows the current distance traveled, in either kilometers (km) or miles (mi), since the last reset for the trip odometer. The trip odometer can be reset to zero by pressing SET/C ...
Replacing Brake System Parts
The braking system on a vehicle is complex. Its many parts have to be of top quality and work well together if the vehicle is to have really good braking. Your vehicle was designed and tested with ...
Rear Climate Control System
The lower buttons on the rear seat audio are used to adjust the rear seat climate controls. The temperature of the air coming through the rear outlets is determined by the front passenger's temp ...