Safety Belt Reminder Light
When the key is turned to RUN or START, a chime will sound for several seconds to remind you buckle your safety belt. The driver safety belt light will also come on and stay on for several seconds, then it will flash for several more.
You should buckle your seat belt.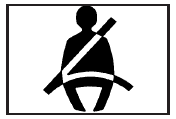 This chime and light will be repeated if the driver remains unbuckled and the vehicle is in motion.
If the driver's belt is buckled, neither the chime nor the light will come on.
See also:
Tire Chains
WARNING! Do not use tire chains. There is not enough clearance. Tire chains used on a vehicle without the proper amount of clearance can cause damage to the brakes, suspension, or other veh ...
Power Steering Fluid (3.6L V6 Engine)
See Engine Compartment Overview for information on the location of the power steering fluid reservoir. ...
Using Cruise Control on Hills
How well the cruise control will work on hills depends upon the vehicle speed, load and the steepness of the hills. When going up steep hills, you might have to step on the accelerator pedal to ...