Rear Door Security Locks
Your vehicle may have this feature. You can lock the rear doors so they cannot be opened from the inside by passengers. To use one of these locks do the following:
1. Open one of the rear doors. You will find a security lock lever located on the inside edge of each rear door.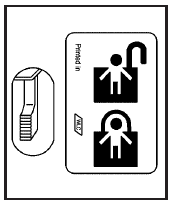 2. Move the lever down to engage the security lock.
Move the lever up to disengage the security lock.
The rear doors of your vehicle cannot be opened from the inside while this feature is in use. If you want to open the rear door while the security lock is on, unlock the door and open the door from the outside.
See also:
Fuel System Messages
FUEL LEVEL LOW This message displays when the vehicle is low on fuel. Refuel as soon as possible. TIGHTEN GAS CAP This message displays when the fuel cap is not on tight. Tighten the fuel c ...
Responsive performance
Buick LaCrosse's stiff body structure serves as the foundation for precise suspension tuning, safety and a quiet ride. Buyers can choose from a family of efficient, direct-injection six-cylinder e ...
Recommended Fuel
Use regular unleaded gasoline with a posted octane rating of 87 or higher. If the octane rating is less than 87, an audible knocking noise, commonly referred to as spark knock, might be heard when ...