License Plate Lamp
To replace one of these bulbs: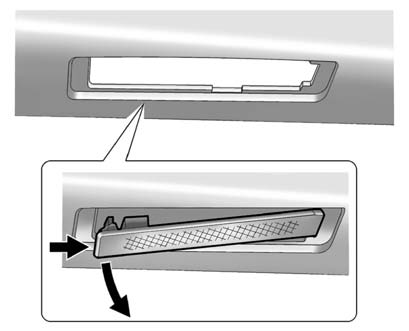 1. Push the left end of the lamp assembly toward the right.
2. Turn the lamp assembly down to remove it from the fascia.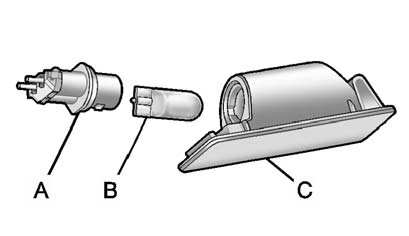 A. Bulb Socket
B. Bulb
C. Lamp Assembly
3. Turn the bulb socket (A) counterclockwise to remove it from the lamp assembly (C).
4. Pull the bulb (B) straight out of the bulb socket.
5. Push the replacement bulb straight into the bulb socket and turn the bulb socket clockwise to install it into the lamp assembly.
6. Turn the lamp assembly into the fascia engaging the clip side first.
7. Push on the lamp side opposite the clip until the lamp assembly snaps into place.
See also:
Rear Window Defogger
(Rear Window Defogger): Press to turn the rear window defogger on or off. The rear window defogger turns off automatically after about 10 minutes. If turned on again it runs for about five ...
Recommended Fuel
Use regular unleaded gasoline with a posted octane rating of 87 or higher. If the octane rating is less than 87, an audible knocking noise, commonly referred to as spark knock, might be heard when ...
Manual Transmission Fluid
It is not necessary to check the manual transmission fluid level. A transmission fluid leak is the only reason for fluid loss. If a leak occurs, take the vehicle to your dealer service department and ...