Overview (Radio with CD)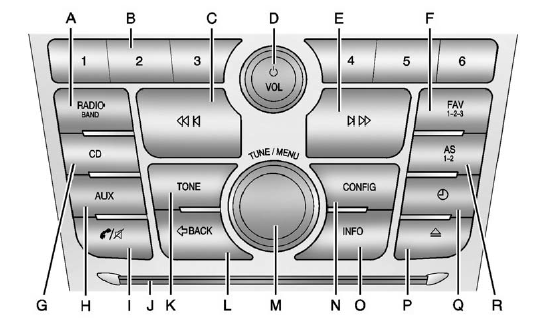 Overview (Radio with CD)
A. RADIO/BAND
Changes the band while listening to the radio.
Selects the radio when listening to a different audio source.
B. Buttons 1−6
Radio: Saves and selects favorite stations.
C.

(Previous/Reverse)
Radio: Seeks the previous station.
CD: Selects the previous track or rewinds within a track.
D.

(Power/Volume)
Turns the system on or off and adjusts the volume.
E.

(Next/Forward)
Radio: Seeks the next station.
CD: Selects the next track or fast forwards within a track.
F. FAV 1-2-3 (Favorites Page)
Radio: Opens the favorites list.
G. CD
H. AUX (Auxiliary)
Selects an external audio source.
I.

(Phone/Mute)
Opens the phone main menu.
Mutes the audio system.
J. CD Slot
K. TONE
L. / BACK
Menu: Moves one level back.
Character Input: Deletes the last character.
M. TUNE/MENU
Turn to open menus, highlight menu items, or set numeric values while in a menu.
Press to select menu items.
Radio: Manually selects radio stations.
CD: Selects tracks.
N. CONFIG (Configuration)
O. INFO (Information)
Radio: Shows available information about the current station.
CD: Shows available information about the current track.
P.

(Eject)
Removes a disc from the CD slot.
Q.

(Clock)
R. AS 1-2 (Autostore)
Radio: Opens the auto store stations list.
See also:
Ultrasonic Parking Assist
If available, Ultrasonic Rear Parking Assist (URPA) system uses sensors on the rear bumper to assist with parking and avoiding objects while in R (Reverse). It operates at speeds less than 8 ...
Convex Mirrors
WARNING A convex mirror can make things, like other vehicles, look farther away than they really are. If you cut too sharply into the right lane, you could hit a vehicle on the right. Check the ...
Finding a Station
BAND: Press this button to switch between FM1, FM2, AM, or XM1 or XM2 (if equipped). The display shows the selection. TUNE : Turn this knob to select radio stations. SEEK : Press either the ...