Fuel Gauge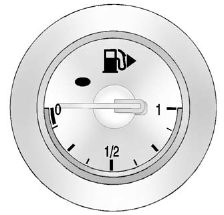 When the ignition is on, the fuel gauge tells you about how much fuel you have left in your tank.
An arrow on the fuel gauge indicates the side of the vehicle the fuel door is on.
When the fuel is low, a message may appear in the Driver Information Center (DIC), and a chime will sound. See Fuel System Messages for more information.
Here are four things that some owners ask about. None of these show a problem with your fuel gauge:
At the service station, the fuel pump shuts off before the gauge reads full.
It takes a little more or less fuel to fill up than the gauge indicated. For example, the gauge may have indicated the tank was half full, but it actually took a little more or less than half the tank's capacity to fill the tank.
The gauge moves a little while turning a corner or speeding up.
The gauge takes a few seconds to stabilize after the ignition is turned on, and will go back to empty when the ignition is turned off.
See also:
Normal Maintenance Replacement Parts
Replacement parts identified below by name, part number, or specification can be obtained from your dealer. ...
Trailer Towing (Except eAssist)
Before pulling a trailer, there are three important considerations that have to do with weight: • The weight of the trailer. • The weight of the trailer tongue. • The total weight on your ...
Service Publications Ordering Information
Service Manuals Service Manuals have the diagnosis and repair information on the engines, transmission, axle, suspension, brakes, electrical, steering, body, etc Service Bulletins Service Bulletins ...