Programming with a Recognized Transmitter (Keyless Access Vehicles Only)
A new transmitter can be programmed to the vehicle when there is one recognized transmitter. To program, the vehicle must be off and all of the transmitters, both currently recognized and new, must be with you.
1. Place the recognized transmitter(s) near you.
2. Insert the vehicle key of the new transmitter into the key lock cylinder located on the outside of the driver door and turn the key to the unlock position five times within 10 seconds.
The Driver Information Center (DIC) displays READY FOR REMOTE #2, 3, 4 or 5.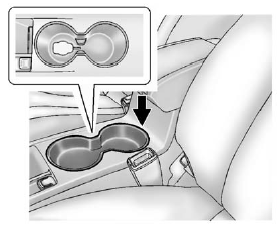 3. Place the new transmitter into the transmitter pocket with the buttons facing up. The transmitter pocket is located inside the center console cupholder. The cupholder liner will need to be removed to access the transmitter pocket. Use your finger or a tool in the notch at the rear of the cupholders to remove the liner. See Cupholders .
4. Press the ignition. When the transmitter is learned, the DIC will show that it is ready to program the next transmitter.
5. Remove the transmitter from the transmitter pocket and press

.
To program additional transmitters, repeat Steps 3 through 5.
When all additional transmitters are programmed, press and hold the ignition for at least 10 seconds to exit programming mode.
See also:
Potential Issues
Some OnStar services are disabled after five days. OnStar cannot perform Remote Door Unlock or Stolen Vehicle Assistance after the vehicle has been off continuously for five days. After five ...
Vehicle Information Menu Items
Press MENU on the turn signal lever until the Vehicle Information Menu is displayed. Use w / x to scroll through the following menu items: Unit Tire Pressure Remaining Oil Life Battery Vol ...
When It Is Time for New Tires
Various factors, such as maintenance, temperatures, driving speeds, vehicle loading, and road conditions influence when you need new tires. One way to tell when it is time for new tires is to ...