Battery
This vehicle has a standard 12-volt battery. Refer to the replacement number on the original battery label when a new standard 12-volt battery is needed.
eAssist vehicles also have a high voltage battery. Only a trained service technician with the proper knowledge and tools should inspect, test, or replace the high voltage battery. See your dealer if the high voltage battery needs service. The dealer has information on how to recycle the high voltage battery.
There is also information available at http://www.recyclemybattery.com.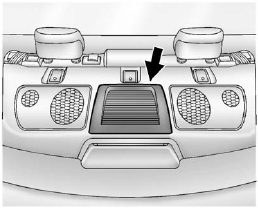 The eAssist system high voltage battery is cooled with air drawn from the vehicle interior. The cold air intake for the battery is located behind the rear seat, on the filler panel. Do not cover the intake.
WARNING!
Battery posts, terminals, and related accessories contain lead and lead compounds, chemicals known to the State of California to cause cancer and reproductive harm. Wash hands after handling.
Vehicle Storage
WARNING!
Batteries have acid that can burn you and gas that can explode.
You can be badly hurt if you are not careful. See Jump Starting (On-board with eAssist Only) or Jump Starting (with or without eAssist) for tips on working around a battery without getting hurt.
Infrequent Usage: Remove the 12-volt battery black, negative (−) cable from the battery to keep the battery from running down.
Extended Storage: Remove the 12-volt battery black, negative (−) cable from the battery or use a battery trickle charger.
Remember to reconnect the battery when ready to drive the vehicle.
See also:
Theft-Deterrent Feature
The theft-deterrent feature works by learning a portion of the Vehicle Identification Number (VIN) to the infotainment system. The infotainment system does not operate if it is stolen or moved to a di ...
Traveling to Remote Areas
It makes sense to plan your trip, especially when going to a remote area. Know the terrain and plan your route. You are much less likely to get bad surprises. Get accurate maps of trails and terrai ...
Maintenance Replacement Parts
Replacement parts identified below by name, part number, or specification can be obtained from your dealer. ...