Trademarks and License Agreements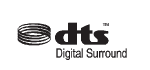 Manufactured under license under U.S. Patent #'s: 5,451,942; 5,956,674; 5,974,380; 5,978,762; 6,487,535 & other U.S. and worldwide patents issued & pending. DTS and the Symbol are registered trademarks and DTS Digital Surround and the DTS logos are trademarks of DTS, Inc. Product includes software. All Rights Reserved.

Manufactured under license from Dolby® Laboratories. Dolby and the double-D symbol are registered trademarks of Dolby Laboratories.

This product incorporates copyright protection technology that is protected by U.S. patents and other intellectual property rights. Use of this copyright protection technology must be authorized by Macrovision, and is intended for home and other limited viewing uses only unless otherwise authorized by Macrovision. Reverse engineering or disassembly is prohibited.

"Made for iPod" means that an electronic accessory has been designed to connect specifically to iPod and has been certified by the developer to meet Apple performance standards. Apple is not responsible for the operation of this device or its compliance with safety and regulatory standards.
iPod, iPod classic, iPod nano, and iPod touch are trademarks of Apple Inc., registered in the U.S. and other countries.
See also:
Driving with a Trailer
Towing a trailer requires a certain amount of experience. Get to know the rig before setting out for the open road. Get acquainted with the feel of handling and braking with the added weight of t ...
Tire Chains
WARNING! Do not use tire chains. There is not enough clearance. Tire chains used on a vehicle without the proper amount of clearance can cause damage to the brakes, suspension, or other veh ...
Instrument Panel
Instrument Panel A. Exterior Lamp Controls. Fog Lamps. Instrument Panel Illumination Control. B. Air Vents. C. Turn and Lane Change Lever. See Turn and Lane-Change Signals. Driver Information ...