Trademarks and License Agreements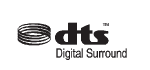 Manufactured under license under U.S. Patent #'s: 5,451,942; 5,956,674; 5,974,380; 5,978,762; 6,487,535 & other U.S. and worldwide patents issued & pending. DTS and the Symbol are registered trademarks and DTS Digital Surround and the DTS logos are trademarks of DTS, Inc. Product includes software. All Rights Reserved.

Manufactured under license from DolbyВ® Laboratories. Dolby and the double-D symbol are registered trademarks of Dolby Laboratories.

This product incorporates copyright protection technology that is protected by U.S. patents and other intellectual property rights. Use of this copyright protection technology must be authorized by Macrovision, and is intended for home and other limited viewing uses only unless otherwise authorized by Macrovision. Reverse engineering or disassembly is prohibited.

"Made for iPod" means that an electronic accessory has been designed to connect specifically to iPod and has been certified by the developer to meet Apple performance standards. Apple is not responsible for the operation of this device or its compliance with safety and regulatory standards.
iPod, iPod classic, iPod nano, and iPod touch are trademarks of Apple Inc., registered in the U.S. and other countries.
See also:
Symbols
The navigation system may have a feature that lets the driver view symbols on the navigation screen while using the RVC. The Ultrasonic Rear Park Assist (URPA) system must not be disabled to ...
Recreational Vehicle Towing
Recreational vehicle towing means towing the vehicle behind another vehicle, such as behind a motor home. The two most common types of recreational vehicle towing are known as dinghy towing and dolly ...
The Comfort Story
The CX is more comfortable than the higher trim levels I've driven, for one reason: the cloth seats. It's not the upholstery itself; it's the seat design. Both I and another editor found the leath ...