Driver Efficiency Gauge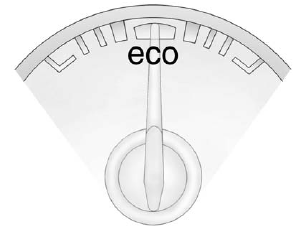 For eAssist vehicles, this gauge assists in driving efficiently and will vary based on driver input.
To maximize efficiency, keep the gauge pointed in the solid green zone in the center of the gauge.
The gauge moves to the left when braking and to the right when accelerating. When either is done aggressively, the vehicle is being driven less efficiently and the gauge will move further from the center.
See also:
Vehicle Security
This vehicle has theft-deterrent features; however, they do not make it impossible to steal. ...
What to Use
WARNING! Adding only plain water or some other liquid to the cooling system can be dangerous. Plain water and other liquids can boil before the proper coolant mixture will. The coolant warni ...
Towing
Consult your dealer or a professional towing service if you need to have your disabled vehicle towed. If you want to tow your vehicle behind another vehicle for recreational purposes (such as behi ...