Steering Wheel Adjustment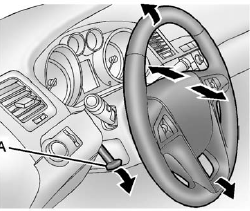 Steering Wheel Adjustment
To adjust the steering wheel:
1. Pull the lever (A) down.
2. Move the steering wheel up or down.
3. Pull or push the steering wheel closer or away from you.
4. Pull the lever (A) up to lock the steering wheel in place.
Do not adjust the steering wheel while driving.
See also:
Brake System Warning Light
The vehicle brake system consists of two hydraulic circuits. If one circuit is not working, the remaining circuit can still work to stop the vehicle. For normal braking performance, both circuits need ...
Airbag Readiness Light
This light shows if there is an electrical problem. The system check includes the airbag sensor, the pretensioners, the airbag modules, the wiring, and the crash sensing and diagnostic module. For mo ...
Empty Directory or Folder
If a root directory or folder is empty or contains only folders, the player advances to the next folder in the file structure that contains a compressed audio file. The empty folder(s) are n ...