Steering Wheel Adjustment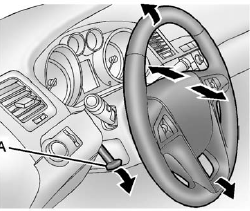 Steering Wheel Adjustment
To adjust the steering wheel:
1. Pull the lever (A) down.
2. Move the steering wheel up or down.
3. Pull or push the steering wheel closer or away from you.
4. Pull the lever (A) up to lock the steering wheel in place.
Do not adjust the steering wheel while driving.
See also:
Windshield Wiper/Washer
The windshield wiper/washer lever is located on the left side of the steering column. Turn the band with the wiper symbol to control the windshield wipers. (Mist): Use for a single wiping cyc ...
Hydroplaning
Hydroplaning is dangerous. Water can build up under the vehicle's tires so they actually ride on the water. This can happen if the road is wet enough and you are going fast enough. When the ...
Glove Box
The glove box is located on the passenger side of the instrument panel. Lift up on the lever to open it. ...