Top Tether Anchor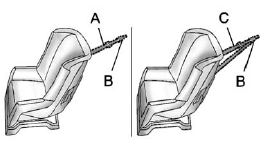 Top Tether Anchor
A top tether (A, C) anchors the top of the child restraint to the vehicle.
A top tether anchor is built into the vehicle. The top tether attachment (B) on the child restraint connects to the top tether anchor in the vehicle in order to reduce the forward movement and rotation of the child restraint during driving or in a crash.
The child restraint may have a single tether (A) or a dual tether (C).
Either will have a single attachment (B) to secure the top tether to the anchor.
Some child restraints that have a top tether are designed for use with or without the top tether being attached. Others require the top tether always to be attached. In Canada, the law requires that forward-facing child restraints have a top tether, and that the tether be attached. Be sure to read and follow the instructions for the child restraint.
See also:
Engine Compartment Overview
When you open the hood on the 4.2L L6 engine, here is what you will see: A. Engine Air Cleaner/Filter. B. Engine Coolant Recovery Tank. C. Windshield Washer Fluid Reservoir. D. Power Steering Fl ...
Checking Coolant
The engine coolant recovery tank is in the engine compartment on the passenger's side of the vehicle. The cap has this symbol on it. The vehicle must be on a level surface. When your engine ...
Cupholders
There are two cupholders, with removable liners, located in front of the center console. There may be cupholders located in the second row seat armrest. To access, pull the armrest down. There are ...