If the Off Indicator Is Lit for an Adult-Size Occupant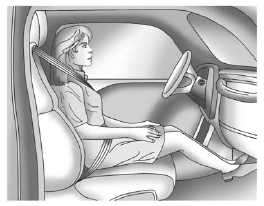 If a person of adult-size is sitting in the front outboard passenger seat, but the off indicator is lit, it could be because that person is not sitting properly in the seat. Use the following steps to allow the system to detect that person and enable the front outboard passenger frontal airbag :
1. Turn the vehicle off.
2. Remove any additional material from the seat, such as blankets, cushions, seat covers, seat heaters, or seat massagers.
3. Place the seatback in the fully upright position.
4. Have the person sit upright in the seat, centered on the seat cushion, with legs comfortably extended.
5. Restart the vehicle and have the person remain in this position for two to three minutes after the on indicator is lit.
See also:
Lamps On Reminder
For vehicles with the lamps on reminder light, it comes on when the lights are in use. ...
Power Windows and OtherPower Options
Circuit breakers protect the power windows and other power accessories. When the current load is too heavy, the circuit breaker opens and closes, protecting the circuit until the problem is fixed ...
Diagnostics
OnStar Vehicle Diagnostics will perform a vehicle check every month. It will check the engine, transmission, antilock brakes, and major vehicle systems. It also checks the tire pressures, if ...