Safety Belt Use During Pregnancy
Safety belts work for everyone, including pregnant women. Like all occupants, they are more likely to be seriously injured if they do not wear safety belts.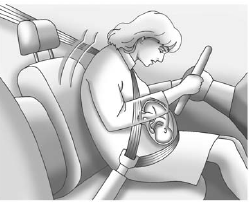 A pregnant woman should wear a lap-shoulder belt, and the lap portion should be worn as low as possible, below the rounding, throughout the pregnancy.
The best way to protect the fetus is to protect the mother. When a safety belt is worn properly, it is more likely that the fetus will not be hurt in a crash. For pregnant women, as for anyone, the key to making safety belts effective is wearing them properly.
See also:
Lane Departure Warning (LDW)
The vehicle may have a Lane Departure Warning (LDW) system. Read this entire section before using the system. WARNING: The Lane Departure Warning (LDW) system does not steer the vehicle and is o ...
Tire Pressure Monitor Operation
This vehicle may have a Tire Pressure Monitor System (TPMS). The TPMS is designed to warn the driver when a low tire pressure condition exists. TPMS sensors are mounted onto each tire and wheel ...
Safety Belts
This section of the manual describes how to use safety belts properly. It also describes some things not to do with safety belts. WARNING! Do not let anyone ride where a safety belt cannot b ...