Starting the Vehicle with a Low Transmitter Battery
If the transmitter battery is weak, the DIC may display NO REMOTE DETECTED when you try to start the vehicle. The REPLACE BATTERY IN REMOTE KEY message may also be displayed at this time.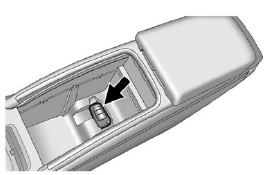 To start the vehicle:
1. Remove the cupholder from the center console storage area.
2. Place the transmitter in the transmitter pocket with the buttons facing up.
3. With the vehicle in P (Park) or N (Neutral), press the brake pedal and the START/STOP button. See Starting the Engine for additional information about the vehicle's keyless ignition with pushbutton start.
Replace the transmitter battery as soon as possible.
See also:
2011 Buick Regal Review
More than a few surprises have accompanied the rebirth of General Motors. Chief among them is the resurgence of Buick, which was chosen as one of just four brands GM kept alive, even as it euthani ...
Rear Seat
Rear Seat Pull the head restraint up to raise it. To lower the head restraint, press the release button, located on the head restraint post on the top of the seatback, while you push the hea ...
When the System Does Not Seem to Work Properly
Occasional missed alerts can occur under normal circumstances and will increase in wet conditions. The system does not need to be serviced due to an occasional missed alert. The number of mi ...