Lock Sensor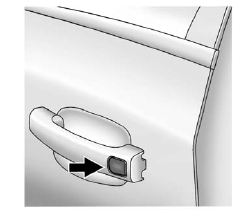 Lock Sensor
When all doors are closed and the ignition is off, the vehicle can be locked by pressing this area on the door handle. This feature will be available for several minutes after the vehicle has been turned off.
See also:
Passive Entry
This allows the Passive Entry feature to be turned on or off. Press SELECT when Passive Entry is highlighted. Turn the Menu knob to select On or Off. Press SELECT to confirm the selection. Pr ...
All-Wheel Drive (AWD) System
Your vehicle may have this feature. There is no lever or switch to engage or disengage the front axle. It is fully automatic and adjusts as needed for road conditions. Your vehicle has an active t ...
Different Size Tires and Wheels
If wheels or tires are installed that are a different size than the original equipment wheels and tires, vehicle performance, including its braking, ride and handling characteristics, stability, and r ...