Driver Efficiency Gauge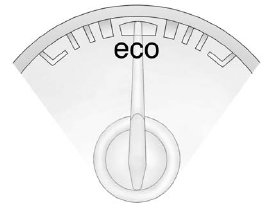 Driver Efficiency Gauge
This gauge assists the driver in operating the vehicle more efficiently and will vary based on driver input.
See Driver Efficiency Gauge for more information.
See also:
OnStar Additional Information
Transferring Service Push to request account transfer eligibility information. The Advisor can assist in canceling or removing account information. If OnStar receives information that vehicle ow ...
When to Add Engine Oil
3.9L V6 Engine 4.6L V8 Engine If the oil is below the cross-hatched area at the tip of the dipstick, add at least one quart/liter of the recommended oil. This section explains what kind of o ...
Tire Terminology and Definitions
Air Pressure: The amount of air inside the tire pressing outward on each square inch of the tire. Air pressure is expressed in kPa (kilopascal) or psi (pounds per square inch). Accessory We ...