eAssist® Overview
If the vehicle has eAssist, there are several additional features which contribute to increased efficiency.
Vehicles with eAssist have an automatic engine start/stop feature.
This feature saves fuel by shutting the engine off when the vehicle is stopped. When the engine shuts off automatically, all the accessories will continue to operate normally. In very hot or cold conditions, the engine will only shut off automatically part of the time. See Starting the Engine.
There are two air conditioning settings available. The comfort setting maximizes cabin comfort.
The eco setting maximizes efficiency allowing more frequent, and longer engine stops than the comfort setting. See Dual Automatic Climate Control System.
This vehicle has a Hill Start Assist (HSA) feature, which may be useful when the vehicle is stopped on a grade. See Hill Start Assist (HSA).
Vehicles with eAssist have a slightly different instrument cluster, which includes an efficiency gauge, and an AUTO STOP indicator on the tachometer. See Instrument Cluster. There is also a Power Flow Gauge in the Driver Information Center (DIC). See Driver Information Center (DIC).
The eAssist system uses a high voltage battery, which is cooled with air drawn from the vehicle interior.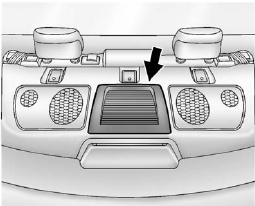 The cold air intake for the battery is located behind the rear seat, on the filler panel. Do not cover the intake.
See Battery.
See also:
Total Weight on the Vehicle's Tires
Be sure the vehicle's tires are inflated to the upper limit for cold tires. These numbers can be found on the Certification/Tire label. See Loading the Vehicle. Make sure not to go over the GVW li ...
Tire Sealant
Read and follow the safe handling instructions on the label adhered to the compressor. Check the tire sealant expiration date on the sealant canister. The sealant canister should be replaced befo ...
Driving with a Trailer
Towing a trailer requires a certain amount of experience. Get to know the rig before setting out for the open road. Get acquainted with the feel of handling and braking with the added weight of t ...