eAssist® Overview
If the vehicle has eAssist, there are several additional features which contribute to increased efficiency.
Vehicles with eAssist have an automatic engine start/stop feature.
This feature saves fuel by shutting the engine off when the vehicle is stopped. When the engine shuts off automatically, all the accessories will continue to operate normally. In very hot or cold conditions, the engine will only shut off automatically part of the time. See Starting the Engine.
There are two air conditioning settings available. The comfort setting maximizes cabin comfort.
The eco setting maximizes efficiency allowing more frequent, and longer engine stops than the comfort setting. See Dual Automatic Climate Control System.
This vehicle has a Hill Start Assist (HSA) feature, which may be useful when the vehicle is stopped on a grade. See Hill Start Assist (HSA).
Vehicles with eAssist have a slightly different instrument cluster, which includes an efficiency gauge, and an AUTO STOP indicator on the tachometer. See Instrument Cluster. There is also a Power Flow Gauge in the Driver Information Center (DIC). See Driver Information Center (DIC).
The eAssist system uses a high voltage battery, which is cooled with air drawn from the vehicle interior.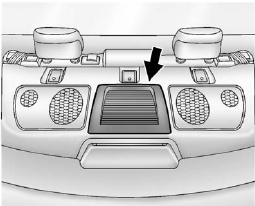 The cold air intake for the battery is located behind the rear seat, on the filler panel. Do not cover the intake.
See Battery.
See also:
New Vehicle Break-In
Notice: The vehicle does not need an elaborate break-in. But it will perform better in the long run if you follow these guidelines: ► If you have all-wheel drive, keep your speed at 88 km/h ( ...
When Should an Airbag Inflate?
Frontal airbags are designed to inflate in moderate to severe frontal or near frontal crashes to help reduce the potential for severe injuries, mainly to the driver's or front outboard passeng ...
If a Tire Goes Flat
It is unusual for a tire to blow out while driving, especially if the tires are maintained properly. If air goes out of a tire, it is much more likely to leak out slowly. But if there ever is a blowou ...