Floor Mats

WARNING
If a floor mat is the wrong size or is not properly installed, it can interfere with the accelerator pedal and/or brake pedal.
Interference with the pedals can cause unintended acceleration and/or increased stopping distance which can cause a crash and injury. Make sure the floor mat does not interfere with the accelerator or brake pedal.
Use the following guidelines for proper floor mat usage:
► The original equipment floor mats were designed for your vehicle. If the floor mats need replacing, it is recommended that GM certified floor mats be purchased. Non-GM floor mats may not fit properly and may interfere with the accelerator or brake pedal. Always check that the floor mats do not interfere with the pedals. ► Use the floor mat with the correct side up. Do not turn it over. ► Do not place anything on top of the driver side floor mat. ► Use only a single floor mat on the driver side. ► Do not place one floor mat on top of another.
Removing and Replacing the Floor Mats
Pull up on the rear of the floor mat to unlock each retainer and remove.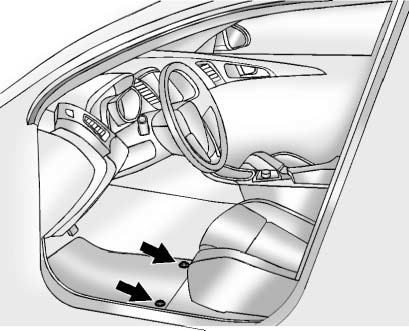 Reinstall by lining up the floor mat retainer openings over the carpet retainers and snap into position.
Make sure the floor mat is properly secured in place.
Verify the floor mat does not interfere with the accelerator, clutch, or the brake pedal.
See also:
Shifting Into Park
WARNING: It can be dangerous to get out of the vehicle if the shift lever is not fully in P (Park) with the parking brake firmly set. The vehicle can roll. If you have left the engine running, ...
Playing an MP3 CD
For vehicles equipped with the MyLink or IntelliLink infotainment system, see the separate MyLink/ IntelliLink Features and Functions Guide for more information. To play an MP3 CD, follow the same ...
Using Universal Home Remote
Press and hold the appropriate button for at least half of a second. The indicator light will come on while the signal is being transmitted. ...