Storing a Flat or Spare Tire and Tools

WARNING
Storing a jack, a tire, or other equipment in the passenger compartment of the vehicle could cause injury. In a sudden stop or collision, loose equipment could strike someone. Store all these in the proper place.
To store the flat tire:
1. If the flat tire is larger than the spare tire, use the longer mounting bolt from the tool bag.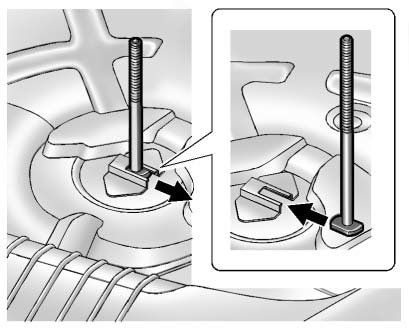 2. Slide the shorter bolt to remove it from the floor and insert the longer one.
3. Replace the jack and tools in their original storage location.
4. Place the tire, lying flat, facing up in the spare tire well.
5. Turn the retainer nut clockwise to secure the tire.
6. Place the floor cover on the wheel.
To store the compact spare tire, use the shorter mounting bolt.
The compact spare is for temporary use only. Replace the compact spare tire with a full-size tire as soon as you can.
See also:
Sun Visors
Pull the sun visor down to block glare. Detach the sun visor from the center mount to pivot to the side window, or to extend along the rod, if available. ...
Tires
Your new vehicle comes with high-quality tires made by a leading tire manufacturer. If you ever have questions about your tire warranty and where to obtain service, see your GM Warranty booklet fo ...
Engine Coolant (4.6L Engine)
The cooling system in the vehicle is filled with DEX-COOLВ® engine coolant. This coolant is designed to remain in the vehicle for five years or 150,000 miles (240 000 km), whichever occurs first ...