Storing a Flat or Spare Tire and Tools

WARNING
Storing a jack, a tire, or other equipment in the passenger compartment of the vehicle could cause injury. In a sudden stop or collision, loose equipment could strike someone. Store all these in the proper place.
To store the flat tire:
1. If the flat tire is larger than the spare tire, use the longer mounting bolt from the tool bag.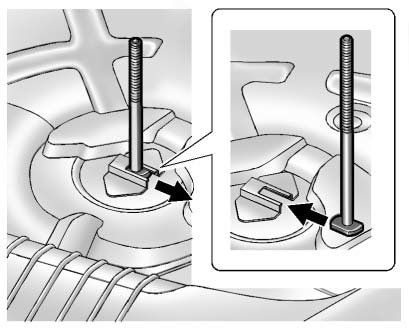 2. Slide the shorter bolt to remove it from the floor and insert the longer one.
3. Replace the jack and tools in their original storage location.
4. Place the tire, lying flat, facing up in the spare tire well.
5. Turn the retainer nut clockwise to secure the tire.
6. Place the floor cover on the wheel.
To store the compact spare tire, use the shorter mounting bolt.
The compact spare is for temporary use only. Replace the compact spare tire with a full-size tire as soon as you can.
See also:
DVD Distortion
There may be an experience with audio distortion in the wireless headphones when operating cellular phones, scanners, CB radios, Global Positioning Systems (GPS)*, two-way radios, mobile fax, or w ...
Wheel Alignment
Wheel alignment is critical for ensuring that the tires deliver optimal wear and performance. • Signs that the alignment may need to be adjusted include pulling, improper vehicle handling ...
Diagnostics
OnStar Vehicle Diagnostics will perform a vehicle check every month. It will check the engine, transmission, antilock brakes, and major vehicle systems. It also checks the tire pressures, if the v ...