Storing a Flat or Spare Tire and Tools

WARNING
Storing a jack, a tire, or other equipment in the passenger compartment of the vehicle could cause injury. In a sudden stop or collision, loose equipment could strike someone. Store all these in the proper place.
To store the flat tire:
1. If the flat tire is larger than the spare tire, use the longer mounting bolt from the tool bag.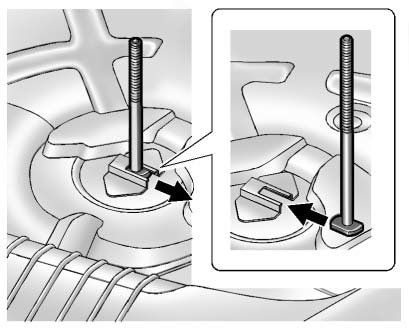 2. Slide the shorter bolt to remove it from the floor and insert the longer one.
3. Replace the jack and tools in their original storage location.
4. Place the tire, lying flat, facing up in the spare tire well.
5. Turn the retainer nut clockwise to secure the tire.
6. Place the floor cover on the wheel.
To store the compact spare tire, use the shorter mounting bolt.
The compact spare is for temporary use only. Replace the compact spare tire with a full-size tire as soon as you can.
See also:
Dual Tone Multi-Frequency (DTMF) Tones
The in-vehicle Bluetooth system can send numbers during a call. This is used when calling a menu-driven phone system. For Radio with CD: 1. Turn or press the TUNE/MENU knob and select Enter Number ...
Remote Keyless Entry (RKE) System
The RKE transmitter will work up to 20m (65 ft) away from the vehicle. Press the key release button to extend the key blade. The key can be used for the ignition and all locks. Press to unlock th ...
Remote Keyless Entry (RKE) System
Your Remote Keyless Entry (RKE) system operates on a radio frequency subject to Federal Communications Commission (FCC) Rules and with Industry Canada. This device complies with Part 15 of the ...