Taillamps, Turn Signal, Stoplamps, and Back-Up Lamps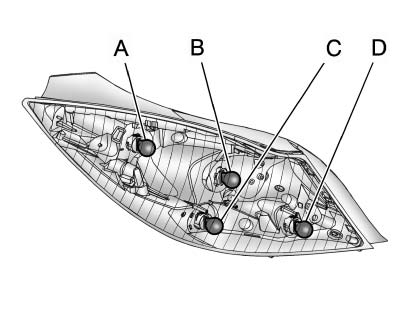 A. Taillamp/Sidemarker Lamp
B. Taillamp
C. Stop/Turn Signal Lamp
D. Back-up Lamp
To replace any one of these bulbs:
1. Open the trunk. See Trunk Release .
2. Remove the taillamp assembly access panel.
3. Remove the two nuts that secure the taillamp assembly.
4. Remove the taillamp assembly and detach the wiring harness connector.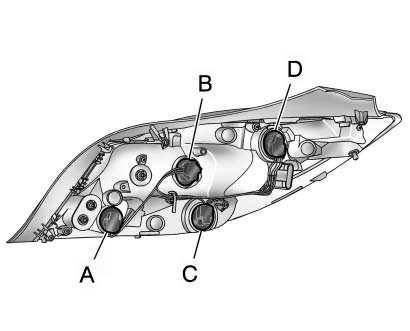 A. Back-up Lamp
B. Taillamp
C. Stop/Turn Signal Lamp
D. Taillamp/Sidemarker Lamp
5. Turn the bulb socket counterclockwise to remove it.
6. Pull the bulb from the socket.
7. Install a new bulb.
8. Turn the bulb socket clockwise to install it.
9. Reverse Steps 2 through 4 to reinstall the taillamp assembly.
See also:
Underbody Maintenance
Use plain water to flush dirt and debris from the vehicle's underbody. Your dealer or an underbody car washing system can do this. If not removed, rust and corrosion can develop. ...
Turn Signals when Towing a Trailer
The turn signal indicators on the instrument panel flash whenever signaling a turn or lane change. Properly hooked up, the trailer lamps also flash, telling other drivers the vehicle is turni ...
Emergency
With Automatic Crash Response, the built-in system can automatically connect to help in a crash even if you cannot ask for it. Push to connect to an Emergency Advisor. GPS technology is used to ...