Changing a Flat Tire
If a tire goes flat, avoid further tire and wheel damage by driving slowly to a level place. Turn on the hazard warning flashers. See Hazard Warning Flashers .
WARNING:
Changing a tire can be dangerous. The vehicle can slip off the jack and roll over or fall on you or other people. You and they could be badly injured or even killed. Find a level place to change your tire. To help prevent the vehicle from moving:
1. Set the parking brake firmly.
2. Put the shift lever in P (Park).
3. Turn off the engine and do not restart while the vehicle is raised.
4. Do not allow passengers to remain in the vehicle.
To be even more certain the vehicle will not move, you should put blocks at the front and rear of the tire farthest away from the one being changed.
That would be the tire, on the other side, at the opposite end of the vehicle.
When the vehicle has a flat tire (B), use the following example as a guide to assist you in the placement of wheel blocks (A).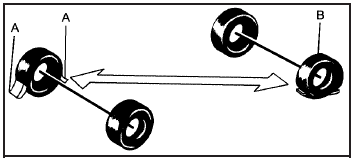 A. Wheel Block
B. Flat Tire
The following information explains how to use the jack and change a tire.
See also:
XMв"ў Satellite Radio Service
XM satellite radio service gives digital radio reception from coast to coast in the 48 contiguous United States, and in Canada. Just as with FM, tall buildings or hills can interfere with sa ...
Mass Storage Media (MEM)
Infotainment systems with MEM storage are able to record up to 1.1 GB (gigabyte) of music from audio CDs, MP3/WMA/AAC discs, and USB storage devices. The MEM player can also time shift audio ...
Battery Replacement
To change the batteries, do the following: 1. Remove the battery compartment door located on the bottom of the remote control. 2. Replace the two AA batteries in the compartment. Make sure that ...