Taillamps and Back-Up Lamps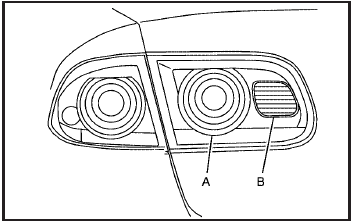 A. Taillamp
B. Back-up Lamp
To replace an auxiliary taillamp or back-up lamp bulb:
1. Open the trunk. See Trunk.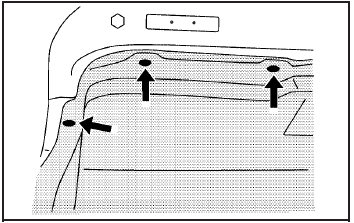 2. Remove the three fasteners from the trunk trim.
3. Pull back the trunk trim to access the bulbs.
4. Turn the bulb socket counterclockwise to remove it.
5. Pull the bulb straight out.
6. Push the bulb straight in until it clicks.
7. Push the bulb socket in and turn it clockwise to secure it.
8. Put the trunk trim and three fasteners back into place.
See also:
Using the Universal Remote System
Press and hold the appropriate Universal Remote system button for at least half of a second. The indicator light will come on while the signal is being transmitted. ...
Weight of the Trailer
How heavy can a trailer safely be? For a vehicle with a V6 engine, it should never weigh more than 454 kg (1,000 lbs). But even that can be too heavy. It depends on how the rig is used. For e ...
Windshield Washer Fluid
What to Use When the vehicle needs windshield washer fluid, be sure to read the manufacturer's instructions before use. If the vehicle will be operating in an area where the temperature may fa ...