Taillamps, Turn Signal, Stoplamps and Sidemarker Lamps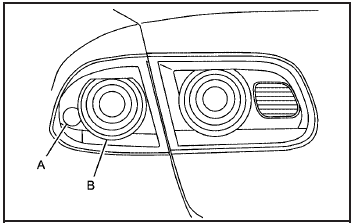 A. Sidemarker Lamp
B. Stoplamp/Taillamp/Turn Signal Lamp
To replace one of these bulbs:
1. Open the trunk. See Trunk.
2. Remove the convenience net.
3. Remove the plastic wing nuts retaining the trunk trim.
4. Pull back the trunk trim.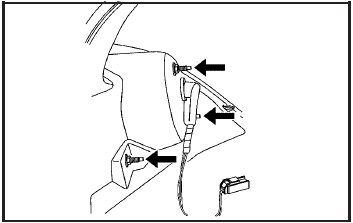 5. Remove the three hex nuts holding the taillamp assembly in place.
6. Pull the taillamp assembly straight out.
7. Turn the bulb socket counterclockwise and pull it straight out to remove it.
8. Pull the old bulb straight out of the socket.
9. Push the new bulb straight in until it clicks.
10. Push the bulb socket in and turn it clockwise to secure it in the taillamp assembly.
11. Push the taillamp assembly straight in to its original location.
When reinstalling the taillamp assembly, make sure the plastic pin on the taillamp assembly lines up and is inserted correctly into the opening of the vehicle.
12. Reinstall the three hex nuts holding the taillamp assembly in place.
13. Put the trunk trim back into place.
14. Reinstall the plastic wing nuts that retain the trunk trim.
15. Put the convenience net back in its original location.
See also:
Clearing the System
Unless information is deleted out of the in-vehicle Bluetooth system, it will be retained indefinitely. This includes all saved name tags in the phone book and phone pairing information. For informati ...
Vehicle Locator Lights
This allows the vehicle locator lights to be turned on or off. The vehicle locator lights come on when unlocking the vehicle with the RKE transmitter. Press SELECT when Vehicle Locator Ligh ...
Leather
A soft cloth dampened with water may be used to remove dust. If a more thorough cleaning is necessary, a soft cloth dampened with a mild soap solution can be used. Allow the leather to dry natural ...