Taillamps, Turn Signal, Stoplamps and Sidemarker Lamps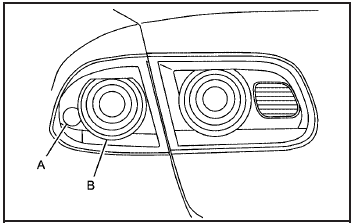 A. Sidemarker Lamp
B. Stoplamp/Taillamp/Turn Signal Lamp
To replace one of these bulbs:
1. Open the trunk. See Trunk.
2. Remove the convenience net.
3. Remove the plastic wing nuts retaining the trunk trim.
4. Pull back the trunk trim.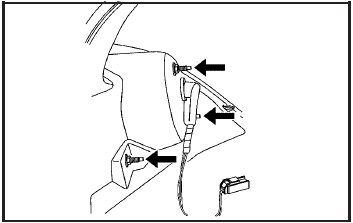 5. Remove the three hex nuts holding the taillamp assembly in place.
6. Pull the taillamp assembly straight out.
7. Turn the bulb socket counterclockwise and pull it straight out to remove it.
8. Pull the old bulb straight out of the socket.
9. Push the new bulb straight in until it clicks.
10. Push the bulb socket in and turn it clockwise to secure it in the taillamp assembly.
11. Push the taillamp assembly straight in to its original location.
When reinstalling the taillamp assembly, make sure the plastic pin on the taillamp assembly lines up and is inserted correctly into the opening of the vehicle.
12. Reinstall the three hex nuts holding the taillamp assembly in place.
13. Put the trunk trim back into place.
14. Reinstall the plastic wing nuts that retain the trunk trim.
15. Put the convenience net back in its original location.
See also:
Setting Preset Stations
Up to 30 stations (six FM1, six FM2, and six AM, six XM1 and six XM2 (if equipped), can be programed on the six numbered pushbuttons, by performing the following steps: 1. Turn the radio on. 2. ...
Insuring Your Vehicle
Protect your investment in your GM vehicle with comprehensive and collision insurance coverage. There are significant differences in the quality of coverage afforded by various insurance policy ...
Replacement Bulbs
For replacement bulbs not listed here, contact your dealer. ...