Off-Road Recovery
The vehicle's right wheels can drop off the edge of a road onto the shoulder while driving.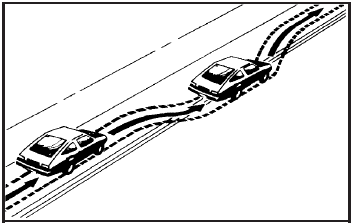 If the level of the shoulder is only slightly below the pavement, recovery should be fairly easy. Ease off the accelerator and then, if there is nothing in the way, steer so that the vehicle straddles the edge of the pavement.
Turn the steering wheel 8 to 13 cm (3 to 5 inches), about one-eighth turn, until the right front tire contacts the pavement edge. Then turn the steering wheel to go straight down the roadway.
See also:
Engine Exhaust
WARNING Engine exhaust contains carbon monoxide (CO) which cannot be seen or smelled. Exposure to CO can cause unconsciousness and even death. Exhaust may enter the vehicle if: The vehicle i ...
Customer Satisfaction Procedure
Your satisfaction and goodwill are important to your dealer and to Buick. Normally, any concerns with the sales transaction or the operation of the vehicle will be resolved by your dealer's sales or s ...
Child Restraint Systems
A rear-facing infant seat (A) provides restraint with the seating surface against the back of the infant. The harness system holds the infant in place and, in a crash, acts to keep the in ...