Off-Road Recovery
The vehicle's right wheels can drop off the edge of a road onto the shoulder while driving.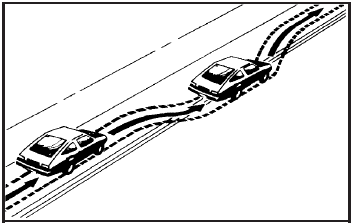 If the level of the shoulder is only slightly below the pavement, recovery should be fairly easy. Ease off the accelerator and then, if there is nothing in the way, steer so that the vehicle straddles the edge of the pavement.
Turn the steering wheel 8 to 13 cm (3 to 5 inches), about one-eighth turn, until the right front tire contacts the pavement edge. Then turn the steering wheel to go straight down the roadway.
See also:
Entry Lighting
The headlamps, parking lamps, taillamps, and most of the interior lamps turn on briefly when is pressed on the Remote Keyless Entry (RKE) transmitter. After about 30 seconds the exterior lamps ...
Climate Control System
A. Temperature Control B. Air Delivery Modes C. Fan Control D. Recirculation E. Air Conditioning F. Rear Window Defogger G. Defrost ...
Windshield Wipers
If the wiper motor overheats due to heavy snow or ice, the windshield wipers will stop until the motor cools, and the wiper control is turned off. After removal of the blockage, the wiper motor wi ...