Off-Road Recovery
The vehicle's right wheels can drop off the edge of a road onto the shoulder while driving.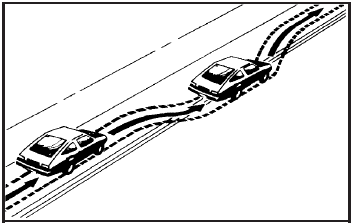 If the level of the shoulder is only slightly below the pavement, recovery should be fairly easy. Ease off the accelerator and then, if there is nothing in the way, steer so that the vehicle straddles the edge of the pavement.
Turn the steering wheel 8 to 13 cm (3 to 5 inches), about one-eighth turn, until the right front tire contacts the pavement edge. Then turn the steering wheel to go straight down the roadway.
See also:
Transmission
Automatic Transmission P: Park R: Reverse N: Neutral D: Drive Manual Mode Move the selector lever from D (Drive) to the left. Press the shift lever forward (+) to upshift or rearward ( ...
Safety Chains
Always attach chains between the vehicle and the trailer. Cross the safety chains under the tongue of the trailer to help prevent the tongue from contacting the road if it becomes separated ...
What Will You See After an Airbag Inflates?
After the frontal airbags and seat-mounted side impact airbags inflate, they quickly deflate, so quickly that some people may not even realize an airbag inflated. Roof-rail airbags may still be a ...