Off-Road Recovery
The vehicle's right wheels can drop off the edge of a road onto the shoulder while driving.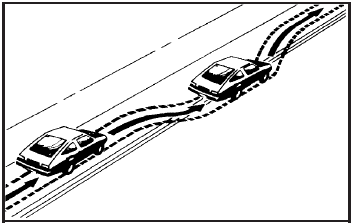 If the level of the shoulder is only slightly below the pavement, recovery should be fairly easy. Ease off the accelerator and then, if there is nothing in the way, steer so that the vehicle straddles the edge of the pavement.
Turn the steering wheel 8 to 13 cm (3 to 5 inches), about one-eighth turn, until the right front tire contacts the pavement edge. Then turn the steering wheel to go straight down the roadway.
See also:
Sensors
The solar sensor, located in the defrost grille, in the middle of the instrument panel, monitors the solar radiation. Do not cover the solar sensor or the system will not work properly. There ...
Fuel Gauge
When the ignition is on, the fuel gauge shows about how much fuel is left in the tank. An arrow on the fuel gauge indicates the side of the vehicle the fuel door is on. The FUEL LEVEL LOW message ...
Reading Lamps
The reading lamps are located in the front console. Press the lens on the lamps to turn the reading lamps on or off. ...