Off-Road Recovery
The vehicle's right wheels can drop off the edge of a road onto the shoulder while driving.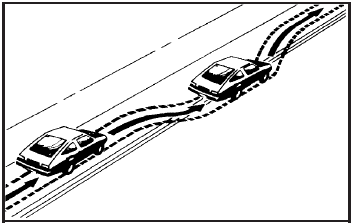 If the level of the shoulder is only slightly below the pavement, recovery should be fairly easy. Ease off the accelerator and then, if there is nothing in the way, steer so that the vehicle straddles the edge of the pavement.
Turn the steering wheel 8 to 13 cm (3 to 5 inches), about one-eighth turn, until the right front tire contacts the pavement edge. Then turn the steering wheel to go straight down the roadway.
See also:
Highway Hypnosis
Always be alert and pay attention to your surroundings while driving. If you become tired or sleepy, find a safe place to park the vehicle and rest. Other driving tips include: ► Keep the veh ...
Transferring a Call
Audio can be transferred between the in-vehicle Bluetooth system and the cell phone. To Transfer Audio to the Cell Phone During a call with the audio in the vehicle: 1. Press . The system respon ...
Service
For service and parts needs, visit your dealer/retailer. You will receive genuine GM parts and GM-trained and supported service people. Genuine GM parts have one of these marks: ...