Oil Pressure Light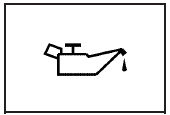 WARNING:
Do not keep driving if the oil pressure is low. The engine can become so hot that it catches fire.
Someone could be burned. Check the oil as soon as possible and have the vehicle serviced.
Notice: Lack of proper engine oil maintenance can damage the engine. The repairs would not be covered by the vehicle warranty. Always follow the maintenance schedule in this manual for changing engine oil.
This light comes on briefly while starting the engine. If it does not, have the vehicle serviced by your dealer/retailer. If the system is working normally the indicator light then goes off.
If the light comes on and stays on, it means that oil is not flowing through the engine properly. The vehicle could be low on oil and it might have some other system problem.
See also:
Torque Lock
Torque lock is when the weight of the vehicle puts too much force on the parking pawl in the transmission. This happens when parking on a hill and shifting the transmission into P (Park) is ...
All-Wheel Drive
When to Check Lubricant It is not necessary to regularly check fluid unless you suspect there is a leak or you hear an unusual noise. A fluid loss could indicate a problem. Have it inspected and r ...
Ending Cruise Control
There are three ways to end cruise control: • To disengage cruise control, step lightly on the brake pedal; when cruise control disengages, the indicator light will not be lit. • Press on t ...