Tire Pressure Light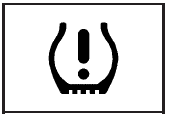 For vehicles with a tire pressure monitoring system, this light comes on briefly when the engine is started. It provides information about tire pressures and the Tire Pressure Monitoring System.
When the Light is On Steady
This indicates that one or more of the tires are significantly underinflated.
A tire pressure message in the Driver Information Center (DIC), can accompany the light. See Driver Information Center (DIC) for more information.
Stop and check the tires as soon as it is safe to do so.
If underinflated, inflate to the proper pressure. See Inflation - Tire Pressure for more information.
When the Light Flashes First and Then is On Steady
This indicates that there may be a problem with the Tire Pressure Monitor System. The light flashes for about a minute and stays on steady for the remainder of the ignition cycle. This sequence repeats with every ignition cycle. See Tire Pressure Monitor Operation for more information.
See also:
Rear Compartment Fuse Block
The rear compartment fuse block, if equipped, is located on the left side of the trunk behind a cover. The vehicle may not be equipped with all of the fuses, relays, and features shown. ...
OnStar Steering Wheel Controls
This vehicle may have a Talk/Mute button that can be used to interact with OnStar Hands-Free calling. See Steering Wheel Controls for more information. On some vehicles, the Talk button can be ...
Add-On Electrical Equipment
Notice: Do not add anything electrical to the vehicle unless you check with your dealer first. Some electrical equipment can damage the vehicle and the damage would not be covered by the vehicle ...