Engine Coolant Temperature Gage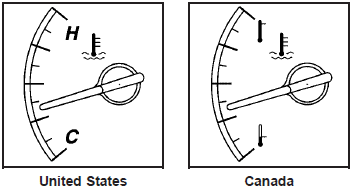 This gage shows the engine coolant temperature. If the pointer moves towards the H (United States) or shaded in thermostat symbol area (Canada), the engine is too hot.
A temperature indicator light will turn on and a chime will sound.
If the vehicle has been operating under normal driving conditions, and the temperature indicator light comes on, pull off the road, stop the vehicle and turn off the engine as soon as possible.
See also:
High Voltage Devices and Wiring
WARNING! Exposure to high voltage can cause shock, burns, and even death. The high voltage components in the vehicle can only be serviced by technicians with special training. High voltage ...
Braking
Braking action involves perception time and reaction time. Deciding to push the brake pedal is perception time. Actually doing it is reaction time. Average driver reaction time is about three-qaurt ...
Buying New Tires
GM has developed and matched specific tires for your vehicle. The original equipment tires installed on your vehicle, when it was new, were designed to meet General Motors Tire Performance Criteri ...