Engine Coolant Temperature Gage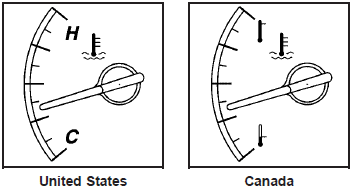 This gage shows the engine coolant temperature. If the pointer moves towards the H (United States) or shaded in thermostat symbol area (Canada), the engine is too hot.
A temperature indicator light will turn on and a chime will sound.
If the vehicle has been operating under normal driving conditions, and the temperature indicator light comes on, pull off the road, stop the vehicle and turn off the engine as soon as possible.
See also:
Global Positioning System (GPS)
• Obstruction of the GPS can occur in a large city with tall buildings; in parking garages; around airports; in tunnels, underpasses, or parking garages; or in an area with very dense tr ...
Rear Seats
Folding the Seatback Either side of the seatback can be folded down for more cargo space. Fold a seatback only when the vehicle is not moving. Notice: Folding a rear seat with the safety belts stil ...
Language
Press the customization button until LANGUAGE: ENGLISH appears in the display. To select your preference for display language, press the select button while LANGUAGE: ENGLISH is displayed on the ...