Antilock Brake System (ABS) Warning Light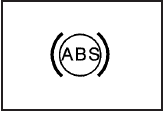 For vehicles with the Antilock Brake System (ABS), this light comes on briefly when the engine is started.
If it does not, have the vehicle serviced by your dealer/retailer. If the system is working normally the indicator light then goes off.
If the ABS light stays on, turn the ignition off. If the light comes on while driving, stop as soon as it is safely possible and turn the ignition off. Then start the engine again to reset the system. If the ABS light stays on, or comes on again while driving, the vehicle needs service.
If the regular brake system warning light is not on, the vehicle still has brakes, but not antilock brakes. If the regular brake system warning light is also on, the vehicle does not have antilock brakes and there is a problem with the regular brakes. See Brake System Warning Light.
For vehicles with a Driver Information Center (DIC), see DIC Warnings and Messages for all brake related DIC messages.
See also:
Safety Belt Use During Pregnancy
Safety belts work for everyone, including pregnant women. Like all occupants, they are more likely to be seriously injured if they do not wear safety belts. A pregnant woman should wear a lap-shoul ...
Passing
The driver of a vehicle about to pass another on a two-lane highway waits for just the right moment, accelerates, moves around the vehicle ahead, then goes back into the right lane again. A simple ...
If a Tire Goes Flat
It is unusual for a tire to blow out while driving, especially if the tires are maintained properly. If air goes out of a tire, it is much more likely to leak out slowly. But if there ever is a bl ...