Antilock Brake System (ABS) Warning Light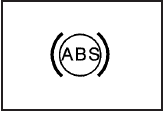 For vehicles with the Antilock Brake System (ABS), this light comes on briefly when the engine is started.
If it does not, have the vehicle serviced by your dealer/retailer. If the system is working normally the indicator light then goes off.
If the ABS light stays on, turn the ignition off. If the light comes on while driving, stop as soon as it is safely possible and turn the ignition off. Then start the engine again to reset the system. If the ABS light stays on, or comes on again while driving, the vehicle needs service.
If the regular brake system warning light is not on, the vehicle still has brakes, but not antilock brakes. If the regular brake system warning light is also on, the vehicle does not have antilock brakes and there is a problem with the regular brakes. See Brake System Warning Light.
For vehicles with a Driver Information Center (DIC), see DIC Warnings and Messages for all brake related DIC messages.
See also:
Ejecting a Disc (DVD Player withoutSunroof)
Press the eject button on the DVD player faceplate to eject the disc. There is not an eject button on the remote control. If a disc is ejected from the player, but is not removed, the DVD player ...
Starting the Vehicle
To start the engine using the remote start feature: 1. Aim the RKE transmitter at the vehicle. 2. Press and release . 3. Immediately after completing Step 2, press and hold until the turn signa ...
Programming without a Recognized Transmitter (Keyless Access Vehicles Only)
If there are no currently recognized transmitters available, follow this procedure to program up to five transmitters. This feature is not available in Canada. This procedure will take approximate ...