Passenger Safety Belt Reminder Light
Several seconds after the engine is started, a chime sounds for several seconds to remind the front passenger to buckle their safety belt. The passenger safety belt light, located on the instrument panel, comes on and stays on for several seconds and then flashes for several more.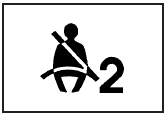 This chime and light are repeated if the passenger remains unbuckled and the vehicle is in motion.
If the passenger safety belt is buckled, neither the chime nor the light comes on.
The front passenger safety belt warning light and chime may turn on if an object is put on the seat such as a briefcase, handbag, grocery bag, laptop or other electronic device. To turn off the warning light and or chime, remove the object from the seat or buckle the safety belt.
See also:
When the Change Engine Oil Soon Message Displays
Change engine oil and filter. See Engine Oil. An Emission Control Service. When the Change Engine Oil Soon message displays, service is required for the vehicle as soon as possible, within the ne ...
Checking Engine Oil
It is a good idea to check the engine oil every time you get fuel. In order to get an accurate reading, the oil must be warm and the vehicle must be on level ground. The engine oil dipstick hand ...
XM Satellite Radio Service
XM is a satellite radio service based in the 48 contiguous United States and 10 Canadian provinces. XM Satellite Radio has a wide variety of programming and commercial-free music, coast to coast, ...