Passenger Safety Belt Reminder Light
Several seconds after the engine is started, a chime sounds for several seconds to remind the front passenger to buckle their safety belt. The passenger safety belt light, located on the instrument panel, comes on and stays on for several seconds and then flashes for several more.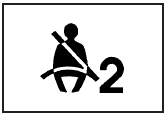 This chime and light are repeated if the passenger remains unbuckled and the vehicle is in motion.
If the passenger safety belt is buckled, neither the chime nor the light comes on.
The front passenger safety belt warning light and chime may turn on if an object is put on the seat such as a briefcase, handbag, grocery bag, laptop or other electronic device. To turn off the warning light and or chime, remove the object from the seat or buckle the safety belt.
See also:
Convenience Net
Use the convenience net located in the trunk to store small loads as far forward as possible. The net should not be used to store heavy loads. Attach the net so the opening is facing up. Atta ...
Universal Home Remote System(With One Triangular LED)
The Universal Home Remote System provides a way to replace up to three hand-held radio-frequency (RF) transmitters used to activate devices such as garage door openers, security systems, and home ...
OnStarВ®
If equipped, this vehicle has a comprehensive, in-vehicle system that can connect to a live Advisor for Emergency, Security, Navigation, Connection, and Diagnostic Services. See OnStar Overv ...