Passenger Safety Belt Reminder Light
Several seconds after the engine is started, a chime sounds for several seconds to remind the front passenger to buckle their safety belt. The passenger safety belt light, located on the instrument panel, comes on and stays on for several seconds and then flashes for several more.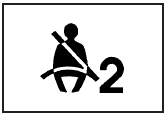 This chime and light are repeated if the passenger remains unbuckled and the vehicle is in motion.
If the passenger safety belt is buckled, neither the chime nor the light comes on.
The front passenger safety belt warning light and chime may turn on if an object is put on the seat such as a briefcase, handbag, grocery bag, laptop or other electronic device. To turn off the warning light and or chime, remove the object from the seat or buckle the safety belt.
See also:
Roadside Assistance Program (Mexico)
As a new owner, your vehicle is automatically enrolled in the Roadside Assistance program. The services are available at no cost under the terms and conditions of the program. The Roadside ...
Engine Oil Additives
Do not add anything to the oil. The recommended oils with the starburst symbol that meet GM Standard GM6094M are all you will need for good performance and engine protection. ...
Driving with a Trailer
CAUTION: If you have a rear-most window open and you pull a trailer with your vehicle, carbon monoxide (CO) could come into your vehicle. You cannot see or smell CO. It can cause unconsciousn ...