Safety Belt Reminder Light
When the engine is started, a chime sounds for several seconds to remind a driver to fasten the safety belt, unless the driver safety belt is already buckled.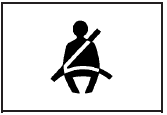 The safety belt light comes on and stays on for several seconds, then flashes for several more.
This chime and light are repeated if the driver remains unbuckled and the vehicle is in motion. If the driver safety belt is already buckled, neither the chime nor the light comes on.
See also:
Audio System(s)
Determine which radio your vehicle has and then read the pages following to familiarize yourself with its features. Driving without distraction is a necessity for a safer driving experience. By ...
Programming with a Recognized Transmitter (Keyless Access Vehicles Only)
A new transmitter can be programmed to the vehicle when there is one recognized transmitter. To program, the vehicle must be off and all of the transmitters, both currently recognized and new, mus ...
Control of a Vehicle
The following three systems help to control the vehicle while driving—brakes, steering, and accelerator. At times, as when driving on snow or ice, it is easy to ask more of those control syste ...